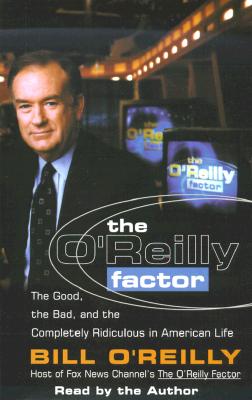 The O'Reilly Factor
The Good, the Bad, and the Completely Ridiculous in American Life
Audio Cassette

* Individual store prices may vary.
Other Editions of This Title:
Digital Audiobook (9/11/2000)
Paperback (3/12/2002)
Compact Disc, Abridged, Abridged (9/12/2000)
Hardcover (9/12/2000)
Description
An irreverent, straight-talking look at American politics and culture from the iconoclastic anchor of one of the highest-rated TV news programs in the country.

Bill O'Reilly has the hottest cable news program on the air. "The O'Reilly Factor," seen nightly on the Fox News Channel, boosted its ratings by more than six times in 1998, and has kept soaring. His blunt, ironic, no-holds-barred style has earned O'Reilly a devoted audience of viewers--friends and foes alike--who send him five thousand letters every week. Now, with the wit and intelligence that have made him one of the most talked-about stars in television, Bill O'Reilly identifies what's right, what's wrong, and what's absurd in the political, social, economic, and cultural life of America:

*The media: why what you see is decided upon by morons

*Politics: why most politicians are obsolete

*Sex: why Americans would declare war on Denmark if they knew what was going on there

As the nation prepares for another presidential race, O'Reilly's provocative opinions are sure to add fire to the ongoing debates. THE O'REILLY FACTOR is poised to follow in the footsteps of bestsellers such as Rush Limbaugh's The Way Things Ought to Be and Jesse Ventura'sI Ain't Got Time to Bleed.
Praise For The O'Reilly Factor: The Good, the Bad, and the Completely Ridiculous in American Life…
What they say about Bill O'Reilly:

"The O'Reilly Factor is a straight, serious, no-nonsense show. Bill O'Reilly has a firm graspof the issues, and he asks the tough questions other hosts won't."
—William J. Bennett

"I may be damaging Bill O'Reilly's reputation by praising him in public. Nonetheless, even though he is wrong about most things, politically speaking, he is invariably fair and encourages debates. His program is always worth watching."
—Lanny Davis, Former Special Counsel to the President (1996-1998)

"I just returned from a trip to Vietnam, and one of the reasons I went was to prepare myself for being back on The O'Reilly Factor because Bill O'Reilly uses some of their old interrogation techniques."
—Senator John McCain

"The O'Reilly Factor is a consistently informative, entertaining program that deals with important, contemporary issues. I appreciate Bill O'Reilly's 'no shtick' and 'take no prisoners' approach. The passion, sincerity, and voracity with which he handles his work are refreshing."
—Dr. Laura C. Schlessinger

"It's hard to pin a label on Bill O'Reilly. Is he a liberal conservative or a conservative liberal?  But whatever his political leanings, his show is a hard-hitting, fast-moving discussion of events at the top of the news. No one walks away from it, guest or viewer, without admiration for The O'Reilly Factor."
—Geraldine A. Ferraro

"Bill O'Reilly overpowers . . . with his direct, take-no-prisoners point of view. How a Gentile could be the greatest talk show host in history is something I will never be able to figure out."
—Jackie Mason
Random House Audio, 9780553502688
Publication Date: September 12, 2000
or
Not Currently Available for Direct Purchase