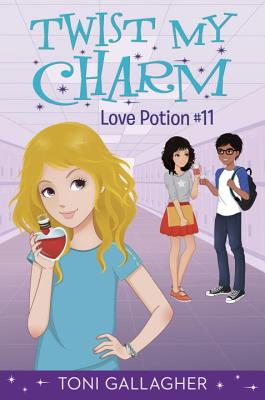 Twist My Charm: Love Potion #11 (Hardcover)
Love Potion #11
Random House Books for Young Readers, 9780553511192, 272pp.
Publication Date: May 24, 2016
Description
Middle school crushes are WAY more complicated when you have a love potion.
Everyone knows love potions don t really work. But Cleo got one as a gift. And it would be crazy not to at least try it . . . right? The plan is simple: make Cleo's ex best friend Samantha and her (secret) crush Larry fall in love. If it works, Sam will be so happy, she ll want to be Cleo's friend again But when Sam gets suspicious, only Larry drinks the love potion. And now suddenly Larry is in love with . . . Cleo?
And then it gets worse. Cleo's dad drank the other glass of punch, and suddenly he's in love with Samantha's mom. Which would have been really cool when Cleo and Sam were still friends . . . but now that they re frenemies? Disaster Is there a potion to make everything go back to normal?
Fans of Sarah Mlynowski, Lauren Myracle, and Wendy Mass will love this fresh contemporary story with just a touch of magic.
About the Author
No stranger to storytelling, Toni Gallagher earned a journalism degree from Northwestern University and has had a successful career in reality TV. She began as a story editor on the early seasons of MTV s "The Real World" and was a producer on the beloved and respected Disney Channel show "Bug Juice, " about real kids at summer camp. Currently she serves as executive producer of "The Real Housewives of Beverly Hills" on Bravo. Toni lives in Los Angeles and loves finding the magic in it.

tonigallagherink.com"
Advertisement