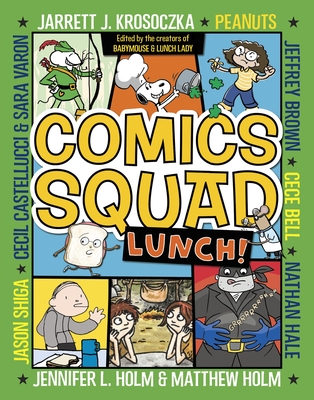 Comics Squad #2
Lunch!: (A Graphic Novel)
Paperback

* Individual store prices may vary.
Description
Calling all kidz! Do you like comics? Do you like laughing till milk comes out of your nose?! Look no further—do we have the book for you! All your favorite comic characters are right here in one book, including the Peanuts gang, Babymouse, and Lunch Lady. This all-star tribute to classic Sunday comics includes eight sidesplitting, action-packed stories about every kid's favorite subject—LUNCH!
 
Lunchtime can be fun, wild, yummy, or complete chaos! And in this second collection of comics, it is definitely hilarious.
Random House Graphic, 9780553512649, 144pp.
Publication Date: January 26, 2016
About the Author
JENNIFER HOLM—Foster City, CA (Babymouse, Squish, New York Times bestseller, three-time Newbery Honor winner, Eisner Award winner)
MATTHEW HOLM—Portland, OR (Babymouse, Squish, Eisner Award winner)
JARRETT J. KROSOCZKA—Northampton, MA (Lunch Lady, Platypus Police Squad, two-time Children's Choice Award winner)
SARA VARON—Brooklyn, NY (illustrator of Cupcake and Odd Duck)
CECIL CASTELLUCCI—Los Angeles (author of Odd Duck)
CECE BELL—Christianburg, VA (author/illustrator of El Deafo, Bee-Wigged, and Itty Bitty)
JASON SHIGA—Oakland, CA (author of Meanwhile and Empire State—A Love Story (Or Not))
NATHAN HALE—(author of the Hazardous Tales series, illustrator of the Eisner Award-nominated Rapunzel's Revenge and its sequel, Calamity Jack)
JEFFREY BROWN—Chicago (author/illustrator of the Jedi Academy series and the upcoming Lucy and Andy Neanderthal)
THE PEANUTS—New York*