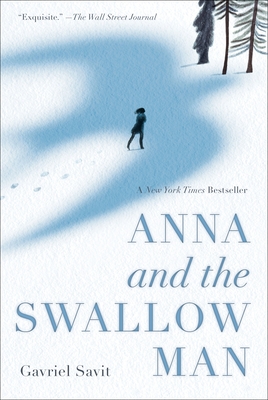 Anna and the Swallow Man
Paperback

* Individual store prices may vary.
Other Editions of This Title:
Digital Audiobook (1/25/2016)
Prebound (3/14/2017)
Paperback, Chinese (7/25/2016)
Hardcover (1/26/2016)
Description
"[A] splendid debut novel. . . . This is masterly storytelling." —The New York Times
 
Set in Poland during the Second World War, Anna and the Swallow Man is a stunning, literary, and wholly original New York Times bestseller and Publishers Weekly best book of the year perfect for readers of The Book Thief and All the Light We Cannot See.
 
Kraków, 1939. A million marching soldiers and a thousand barking dogs. This is no place to grow up. Anna Łania is just seven years old when the Germans take her father, a linguistics professor, during their purge of intellectuals in Poland. She's alone.
 
And then Anna meets the Swallow Man. He is a mystery, strange and tall, a skilled deceiver with more than a little magic up his sleeve. And when the soldiers in the streets look at him, they see what he wants them to see.
 
The Swallow Man is not Anna's father—she knows that very well—but she also knows that, like her father, he's in danger of being taken, and like her father, he has a gift for languages: Polish, Russian, German, Yiddish, even Bird. When he summons a bright, beautiful swallow down to his hand to stop her from crying, Anna is entranced. She follows him into the wilderness.
 
Over the course of their travels together, Anna and the Swallow Man will dodge bombs, tame soldiers, and even, despite their better judgment, make a friend. But in a world gone mad, everything can prove dangerous. Even the Swallow Man.
 
"Exquisite." —The Wall Street Journal
 
"A graceful story steeped in history, magic, myth, and archetype." —The Horn Book Magazine, Starred
 
"This deeply moving debut novel casts naivete against the cruel backdrop of inhumanity." —Publishers Weekly, Starred
 
"[A] quiet exploration of love and its limits." —The Bulletin, Starred
Praise For Anna and the Swallow Man…
A New York Times Bestseller
A Publishers Weekly Best Book of the Year

"[A] splendid debut novel. . . . This is masterly storytelling." —The New York Times

"Chilling yet tender." —People Magazine

"Savit's economical prose beautifully captures a child's loss of innocence and the spiritual challenges that emerge when a safe world suddenly becomes threatening." —Publishers Weekly, Starred Review

"The third-person narrative—lyrical, fluid, with a pervasive shadow of menace—lends a folkloric feel to a graceful story steeped in history, magic, myth, and archetype; comparisons to The Book Thief are apt." —The Horn Book, Starred Review

"Savit's novel, with its wise, philosophical narrator, has the classic feel and elegant, precise language of a book that's been around forever." —Shelf Awareness, Starred Review

"[A] quiet exploration of love and its limits." —The Bulletin of the Center for Children's Books, Starred Review

"Artful, original, insightful." —Kirkus Reviews

"A moving, thought-provoking story about coming-of-age in the midst of trauma." —Booklist 

"The Book Thief. The Boy in the Striped Pajamas. Any book compared to both of these is in my eyes sure to have an exciting plot, be a fantastic eye opener, and have loveable characters. Anna and the Swallow Man did not disappoint. Just go and read it—it is impossible not to love." —The Guardian

"The story is powerful enough to resonate with all ages....Savit's novel, though a quick read, is a powerful one. And just like the child is follows, it has a deeper poignancy masked by its seemingly simple surface." —Mashable

"Written like a love song for language — heartbreaking and entrancing and filled with characters whose survival is intimately, sometimes tragically, tied to their love of words." —Bustle
 
"Exquisite." —The Wall Street Journal
 



Ember, 9780553522082, 256pp.
Publication Date: March 14, 2017
About the Author
Gavriel Savit holds a BFA in musical theater from the University of Michigan in Ann Arbor, where he grew up. As an actor and singer, Gavriel has performed on three continents, from New York to Brussels to Tokyo. He lives in Brooklyn. This is his first novel. Learn more about Gavriel on the Web at GavrielSavit.com.
1. As the novel opens and Anna Lania is introduced, readers learn that "there were several things that she did not know" (p. 1) about her world. How does this set the stage for the story?
2. Readers immediately learn that her father, along with other professional colleagues, were rounded up and sent to prison and then to Sachsenhausen concentration camp. In your opinion, what's the benefit of her initial ignorance about the fate of her father?
3. The narrator states, "Seven-year-old girls are a hugely varied bunch." (p. 2) Do you agree? How would you describe Anna as a seven-year-old? What makes her so unique?
4. Consider the novel's cover. In what ways is the image symbolic of the events that transpire throughout the book?
5. Anna's father "was not confined to any one way of speaking. He could be anything he wanted. Except, perhaps, himself." (p. 4) What are the benefits of being multilingual? Are there any disadvantages? In what ways might her father's ability to remain undefined by borders keep him from being connected to a particular sense of place?
6. Early in the novel, Anna describes what adults called "being a good girl." (p. 14) Do you agree with their assessment? In your opinion, what makes that behavior problematic?
7. When Anna first encounters the Swallow Man, he is wearing his brown wool three-piece suit and carrying his old monogrammed physician's bag. What does his appearance initially indicate about him? Throughout the course of the novel, what lessons does Anna learn about the role attire can play in redefining oneself? How does this attention to detail allow them to hide in plain sight?
8. After Anna cries when the Swallow Man asks if she is all right, he comforts her by calling down a bird. How does this interaction lead Anna to rely on the Swallow Man even if she is unsure that she should really trust him?
9. After praising her for warning him about an approaching landowner and his dog, the Swallow Man tells her, "Listen very closely. The world as it exists is a very, very dangerous place." (p. 34) Why is he pleased when she admits his words frighten her? In what ways is this a strategic choice on his part?
10. The Swallow Man is described as "frightening," but also "bright," "exciting," "potent," and "good." (p. 37) Would you agree with this assessment of his character? Why or why not?
11. Discuss the character traits that allow the Swallow Man and Anna to persevere. How are these characters similar to each other? In what ways are they different? What traits do you have that are shared by either or both of them?
12. Though he needs them to see, the Swallow Man refuses to wear his glasses and states, "They make me look too intelligent. One can't go about looking intelligent." (p. 55) Why does he believe the appearance of intelligence is dangerous?
13. What are some of the specific ways that the Swallow Man and Anna fight back against the Nazis? To what extent are these acts of resistance effective?
14. After she calls him "Solomon," the Swallow Man tells Anna, "That name isn't safe. No name is. Names are ways for people to find us." (p. 45) Do you believe the Swallow Man is correct? If so, in what ways? In your opinion, do names have power? Why does Anna feel so conflicted about giving up her identity?
15. Consider the significance of the contents of the Swallow Man's bag. Why are each of the items important (extra clothes, tin cup, cigarettes, and matches), and what do they indicate about him?
16. Compare and contrast the Swallow Man and Reb Hirschl. How does their sense of their realities capture the differences in their core belief systems? What is it that attracts Anna to each of them?
17. Throughout the novel, the Swallow Man uses his passion for birds to remain connected to the natural world. What are some of the specific ways is so critical? Do you see this behavior as a form of resistance to the Nazi occupation of Poland and Eastern Europe? If so, how?
18. Why do you think the Swallow Man chose to help save Anna's life? What does she give to him in return? Do you believe the actions of a single person can make a difference? Why or why not?
19. The Swallow Man tells Reb Hirschl, "There are things about me that you don't know. It is imperative they not find me, because if they do, they will take me, and if they have me, the entire world will become a taker of life, as you put it." (p. 171) Why does the Swallow Man refuse to be an "instrument of death"? How does this conversation between the two men foreshadow events to come?
20. How does the absence of the Swallow Man's medication change him? Do you think Anna makes the right decision regarding the pharmacist? In the end, do you believe the Swallow Man does the same for her? Why or why not?
21. The Swallow Man tells Anna,"Questions, Anna—questions are far more valuable than answers, and they do much less blowing up in your face as well. If you continue to seek questions, you cannot stray far off the proper road." (p. 228) In what ways does a question hold "all the potential of the living universe within it"?
22. Using the phrase "This is a story about . . . ," supply five words to describe Anna and the Swallow Man. Explain your choices.