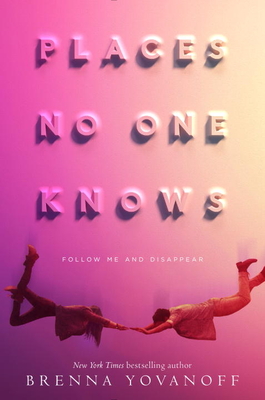 Places No One Knows (Hardcover)
Delacorte Press, 9780553522631, 384pp.
Publication Date: May 17, 2016
Other Editions of This Title:
Digital Audiobook (5/16/2016)
Hardcover (5/17/2016)
CD-Audio (5/17/2016)
* Individual store prices may vary.
Description
Fans of Lady Bird will love this novel about a good girl who dreams herself into a bad boy's room in this lyrically romantic novel that Maggie Stiefvater, author of The Raven King, says she read and "woke up satisfied."
 
    Waverly Camdenmar spends her nights running until she can't even think. Then the sun comes up, life goes on, and Waverly goes back to her perfectly hateful best friend, her perfectly dull classes, and the tiny, nagging suspicion that there's more to life than student council and GPAs.
    Marshall Holt is a loser. He drinks on school nights and gets stoned in the park. He is at risk of not graduating, he does not care, he is no one. He is not even close to being in Waverly's world.
    But then one night Waverly falls asleep and dreams herself into Marshall's bedroom—and when the sun comes up, nothing in her life can ever be the same. In Waverly's dreams, the rules have changed. But in her days, she'll have to decide if it's worth losing everything for a boy who barely exists.

"Waverly and Marshall burn brightly . . . both refreshingly flawed as they come into their own. Readers will forgo sleep themselves to witness their vibrant, achingly real story unfold. A brilliant romance." —Kirkus Reviews, Starred

"A tightly woven, luminously written novel that captures the uncertain nature of high school and the difficult path of self-discovery." —Booklist, Starred

"Yovanoff offers a multilayered exploration of human connections, particularly those that manifest in unpredictable ways."—Publishers Weekly, Starred

About the Author
Brenna Yovanoff is the New York Times bestselling author of The Replacement, The Space Between, Paper Valentine, Fiendish, and Places No One Knows. She lives in Denver with her husband. To learn more about Brenna and her books, visit her online at brennayovanoff.com and follow @brennayovanoff on Twitter.
Praise For Places No One Knows…
Places No One Knows:

"Shockingly, achingly familiar....Waverly reminded me how difficult it is to be bright and intense and aggressive and a little manipulative, sometimes, when you are also trying to be a girl. When you don't yet understand that a girl can be—is—only exactly what you are."-The Paris Review

"Waverly and Marshall burn brightly . . . both refreshingly flawed as they come into their own. Readers will forgo sleep themselves to witness their vibrant, achingly real story unfold. A brilliant romance." —Kirkus Reviews, Starred

"A tightly woven, luminously written novel that captures the uncertain nature of high school and the difficult path of self-discovery." —Booklist, Starred

"Yovanoff offers a multilayered exploration of human connections, particularly those that manifest in unpredictable ways."—Publishers Weekly, Starred

"Dark fiction with a hint of magic."—SLJ

"Yovanoff takes readers on a deep and dark path with characters to hope for….A great read, containing insights, humor and a shocking twist to the typical high-school romance story."—Romantic Times

"A heartfelt exploration of human connection."-Bulletin

"[A] deft portrait of the politics of high school popularity."-VOYA

"I can't tell if this novel is a dream wrapped in razor wire or razor wire wrapped in dream. It doesn't really matter which it is—either way, I woke up satisfied."—Maggie Stiefvater, author of the #1 New York Times bestselling Shiver trilogy, The Raven Cycle, and The Scorpio Races

"A bold and affecting novel about love and belonging. Everything about this book was achingly real, beautifully true and ultimately unforgettable. Read it."—Courtney Summers, author of All the Rage
 
"Addictive and ridiculously romantic. I fell in love along with Waverly and Marshall."—Kara Thomas, author of The Darkest Corners
 
"An unusual, emotionally fraught love story. A narrator who feels this 'real' is a genuine achievement."—Frank Portman, author of King Dork

Praise for Brenna Yovanoff's Other Novels:

The Replacement:
[STAR] "Shockingly original and . . .breathtaking." —Booklist, Starred
"A fast-paced, dark delicacy." —Kirkus Reviews
 
The Space Between:
An ALA-YALSA Best Book of the Year
[STAR] "This confident tale contains moments of beauty, terror, and significant wisdom." —Publishers Weekly, Starred
"Painfully romantic and richly imagined, this offering solidifies Yovanoff's status as an author to watch." —The Bulletin
"Page-turning, deliciously grisly suspense—coupled with plenty of surprises." —VOYA
"Eloquent and imaginative." —School Library Journal
 
Paper Valentine:
A NPR Best Book of the Year
A Boston Globe Best Book of the Year for Young Adults
An ALA-YALSA Best Book of the Year
An ALA-YALSA Quick Pick for Reluctant Young Readers
A Booklist Best Fiction for Young Readers Selection
"Yovanoff gives keen insight into friendship, sisterhood, and the stresses involved in being a teenage girl, in . . . [this] satisfying story." —Publishers Weekly
"An author of note . . . [Paper Valentine] is a satisfying story." —VOYA
"Gripping . . . [the novel] inspires[s] the reader to keep turning the pages." —Children's Literature
 
Fiendish:
"Eerily reminiscent of To Kill a Mockingbird . . . This will have readers mesmerized." —Kirkus Reviews, Starred
"Powerful, evocative prose brings to life a world close to overflowing with wild magic, seething prejudice, and base fear." —The Horn Book
"Seemingly effortless originality." —Booklist
"Deliciously creepy." —VOYA
"Yovanoff's writing is as thrilling and uneasy as the tales she spins. . . . [This] tale will give teens goose bumps from start to finish." —School Library Journal