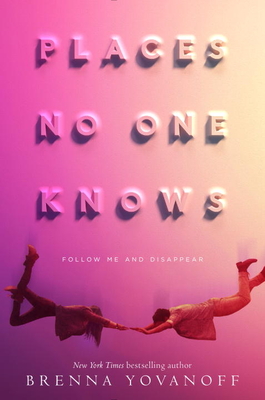 Places No One Knows (Hardcover)
Delacorte Press, 9780553522631, 384pp.
Publication Date: May 17, 2016
Description
A good girl dreams herself into a bad boy's room in this lyrically romantic novel by a bestselling author from which Maggie Stiefvater, author of The Raven King, says she -woke up satisfied.-

Waverly Camdenmar spends her nights running until she can't even think. Then the sun comes up, life goes on, and Waverly goes back to her perfectly hateful best friend, her perfectly dull classes, and the tiny, nagging suspicion that there's more to life than student council and GPAs.
Marshall Holt is a loser. He drinks on school nights and gets stoned in the park. He is at risk of not graduating, he does not care, he is no one. He is not even close to being in Waverly's world.
But then one night Waverly falls asleep and dreams herself into Marshall's bedroom--and when the sun comes up, nothing in her life can ever be the same. In Waverly's dreams, the rules have changed. But in her days, she'll have to decide if it's worth losing everything for a boy who barely exists.
About the Author
Brenna Yovanoff is the New York Times bestselling author of The Replacement, The Space Between, Paper Valentine, and Fiendish. She lives in Denver with her husband. To learn more about Brenna and her books, visit her online at brennayovanoff.com and follow @brennayovanoff on Twitter.
Advertisement