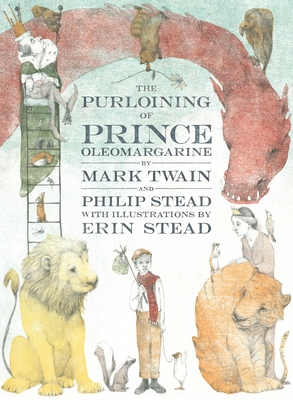 The Purloining of Prince Oleomargarine (Hardcover)
Doubleday Books for Young Readers, 9780553523225, 160pp.
Publication Date: September 26, 2017
Description
A never-before-published, previously unfinished Mark Twain children's story is brought to life by Caldecott Medal winners Philip Stead and Erin Stead. In a hotel in Paris one evening in 1879, Mark Twain sat with his young daughters, who begged their father for a story. Twain began telling them the tale of Johnny, a poor boy in possession of some magical seeds. Later, Twain would jot down some rough notes about the story, but the tale was left unfinished . . . until now. Plucked from the Mark Twain archive at the University of California at Berkeley, Twain's notes now form the foundation of a fairy tale picked up over a century later. With only Twain's fragmentary script and a story that stops partway as his guide, author Philip Stead has written a tale that imagines what might have been if Twain had fully realized this work. Johnny, forlorn and alone except for his pet chicken, meets a kind woman who gives him seeds that change his fortune, allowing him to speak with animals and sending him on a quest to rescue a stolen prince. In the face of a bullying tyrant king, Johnny and his animal friends come to understand that generosity, empathy, and quiet courage are gifts more precious in this world than power and gold. Illuminated by Erin Stead's graceful, humorous, and achingly poignant artwork, this is a story that reaches through time and brings us a new book from America's most legendary writer, envisioned by two of today's most important names in children's literature. ★ "Completing a story penned by arguably America's greatest author is no easy feat, but the Caldecott-winning author-illustrator (and husband-wife) team proves more than equal to the task. . . . A pensive and whimsical work that Twain would applaud."--Kirkus, starred review ★ "a cast of eccentric characters, celestially fine writing, and a crusade against pomp that doesn't sacrifice humor."--Publishers Weekly, starred review ★ "The result is a gift to the eye. Samuel Langhorne Clemens himself would be proud."--Booklist, starred review

★ "The combination of Twain's (often sarcastic) humor and "lessons of life," a touch of allegory, and Stead's own storytelling skills result in an awesome piece of fantasy."--School Library Journal, starred review "bound to become a reading staple for all ages."--RealSimple.com.
About the Author
MARK TWAIN (1835-1910), considered one of the greatest writers in American literature, was born Samuel Langhorne Clemens in Florida, Missouri. As a young child, he moved with his family to Hannibal, Missouri, on the banks of the Mississippi River, a setting that inspired his two best-known novels, The Adventures of Tom Sawyer and Adventures of Huckleberry Finn. Twain and his wife, Olivia Langdon Clemens, had four children--a son, Langdon, who died as an infant, and three daughters, Susy, Clara, and Jean. PHILIP STEAD is the author of the Caldecott Medal-winning book A Sick Day for Amos McGee. With his wife, illustrator Erin Stead, he also created the acclaimed Bear Has a Story to Tell, Lenny & Lucy, and The Purloining of Prince Oleomargarine, based on a previously-unpublished children's story by Mark Twain. Philip has also written and illustrated his own books, including Hello, My Name Is Ruby; Jonathan and the Big Blue Boat; and A Home for Bird. Philip and Erin live in northern Michigan. Visit Philip online at philipstead.com. ERIN STEAD is the illustrator of eight picture books, including the Caldecott Medal-winning A Sick Day for Amos McGee; The Purloining of Prince Oleomargarine, illustrated by Philip Stead and based on a previously-unpublished children's story by Mark Twain; And Then It's Spring, a 2012 Boston Globe-Horn Book Honor Book and a Best Children's Book of 2012 by Kirkus and Publishers Weekly; Bear Has a Story to Tell, a Best Children's Book of 2012 by Kirkus; and The Uncorker of Ocean Bottles, named a best book of the year by Time, People Magazine, the Boston Globe, and School Library Journal. She lives in northern Michigan with her husband, author/illustrator Philip Stead. Visit Erin online at erinstead.com.
Advertisement