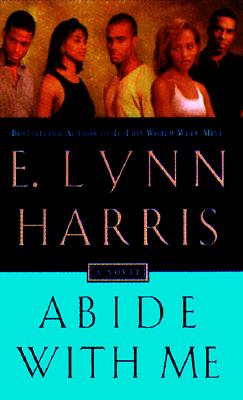 Abide with Me (Audio Cassette, Abridged)
Random House Audio, 9780553525526
Publication Date: March 16, 1999
* Individual store prices may vary.
or
Not Currently Available for Direct Purchase
Description
Since the publication of E. Lynn Harris's stunning debut novel, Invisible Life, millions of readers have laughed, cried, and anguished along with his unforgettable cast of characters.  Now, his growing legions of fans will finally find out what happens in this delicious conclusion to the "Invisible Life" trilogy.

At the end of Just As I Am, Raymond Tyler, Jr., was beginning a relationship with Trent, a fraternity brother from his college days, while Nicole had found love with Jared, Raymond's buddy from Atlanta.  As Abide with Me opens, Raymond and Trent are settled in Seattle, where Trent's career as an architect has blossomed and Raymond's law practice is booming.  All seems well.  Then, late one night, Raymond gets a call from a United States Senator that threatens everything he's built.

Raymond, facing a crisis of faith, travels to New York hoping for the support of his best friend, Jared, who's moved North after five years in Atlanta.  His wife, Nicole, is performing in a revival of Dreamgirls, her lifelong fantasy at last coming true.  Nicole is thrilled to return to the stage, but when things start to go wrong, her young and beautiful understudy, Yancey Elizabeth Braxton, steps into the spotlight a little too smoothly.  And Nicole, far from achieving her dream, is suddenly forced to reevaluate her life and her marriage.

Back, too, are the other beloved inhabitants of Harris's world: Raymond's family; the sexy and dangerous
gray-eyed sportscaster and ex-football player, John "Basil" Henderson; and Peaches, the spirited owner of the Harlem shop "Cuts 'n' Cobblers" and the mother of Raymond's late friend Kyle.

In Abide with Me, Harris once again encourages us to live, love, and dream.  His masterful storytelling, wit, and sensitivity permeate this enormously satisfying novel, which is both a tribute to his loyal following and an invitation to a new audience to enter his irresistible world.
Praise For Abide with Me…
Critical Acclaim for If This World Were Mine

"There is a universality about his characters--so human, so earnest, so genuine, that crossover readers are embracing the books as well.  Their stories are told with warmth and humor from a perspective that is as refreshing as it is straightforward."
--San Francisco Chronicle

"A captivating story."
--Dallas Morning News

"Harris's talent as a writer has increased with each of his books.  His stories have become the toast of bookstores, reading groups, men, women, and gay and straight people."
--Atlanta Journal-Constitution

"Thoughtful, entertaining, loving and welcome."
--Detroit News

"What's got audiences hooked? Harris's unique spin on the ever-fascinating topics of identity, class, intimacy, sexuality, and friendship."
--Vibe

"E.  Lynn Harris has created another juicy tale."
--Washington Post Book World
Advertisement