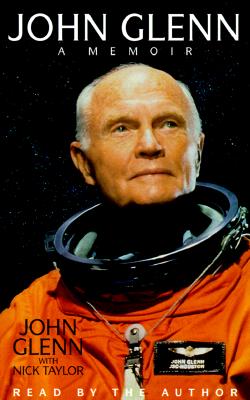 John Glenn: A Memoir (Audio Cassette, Abridged)
A Memoir
Random House Audio, 9780553526646
Publication Date: November 2, 1999
* Individual store prices may vary.
or
Not Currently Available for Direct Purchase
Description
Read by the author
Four Cassettes, 6 1/2 hours

He was the first astronaut to orbit the Earth.  Nearly four decades later, as the world's oldest astronaut, his courage reveted a nation.  But these two historical events only bracketed a life that covers the sweep of an extraordinary century.

John Glenn's autobiography spans the seminal events of the twentieth century.  It is a story that begins with his childhood in Ohio where he learned the importance of family, community, and patriotism.  He took these values with him as a marine fighter pilot during World War II and into the skies over Korea, for which he would be decorated.  Always a gifted flier, it was during the war that he contemplated the unlimited possibilities of aviation and its frontiers.

We see the early days of NASA, where he first served as a backup pilot for astronauts Alan Shepard and Gus Grissom.  In 1962 Glenn piloted the Mercury-Atlas 6 Friendship 7 spacecraft on the first manned orbital mission of the United States.  Then came several years in international business, followed by a twenty-four year career as a U.S. Senator-and in 1998 a return to space for his remarkable Discover mission at the age of seventy-seven.

This extraordinary audiobook captures the unique alchemy that brings a man to the forefront of his time.  Married to a woman he first met when they were both toddlers, known for his integrity and leadership in the Senate, John Glenn tells a story that we must hear.  This narrative of courage and honor is both a great adventure tale and a source of powerful inspiration of an age that needs John Glenn's values.
Advertisement