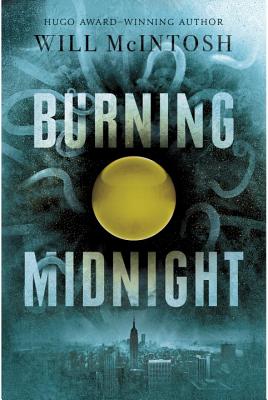 Burning Midnight (Hardcover)
Delacorte Press, 9780553534108, 320pp.
Publication Date: February 2, 2016
Other Editions of This Title:
Paperback (1/31/2017)
MP3 CD (4/12/2016)
Library Binding (2/2/2016)
* Individual store prices may vary.
Description
For fans of The Maze Runner and The Fifth Wave, this debut YA novel from Hugo Award winner Will McIntosh pits four underprivileged teens against an evil billionaire in the race of a lifetime. 
 
No one knows where the brilliant-colored spheres came from. One day they were just there, hidden all over the earth like huge gemstones. Burn a pair and they make you a little better: an inch taller, skilled at math, better-looking. The rarer the sphere, the greater the improvement—and the more expensive the sphere.
 
Sully is a sphere dealer at a flea market. It doesn't pay much—Alex Holliday's stores have muscled out most of the independent sellers—but it helps him and his mom make the rent. When Sully meets Hunter, a girl with a natural talent for finding spheres, the two start searching together. One day they find a Gold—a color no one has ever seen. There's no question the Gold is priceless, but what does it actually do? None of them is aware of it yet, but the fate of the world rests on this little golden orb. Because all the world fights over the spheres, but no one knows where they come from, what their powers are, or why they're here.
 
Chosen as a 2017 Quick Pick for Reluctant Young Adult Readers

"Burning Midnight is for (1) adrenaline junkies and gamers, (2) obsessive collectors, and (3) people who can't get enough of crazy endings. I'm all of these things, and I loved it." —Margaret Stohl, New York Times bestselling author of Black Widow: Forever Red and coauthor of the internationally bestselling Beautiful Creatures series
About the Author
Will McIntosh is the author of several adult speculative fiction novels and is a frequent short-story writer. His first novel, Soft Apocalypse, was a finalist for the Locus Award. "Bridesicle," a short story published in Asimov's Science Fiction, won a Hugo Award for Best Short Story and was later expanded into his novel Love Minus Eighty, which was an ALA-RUSA Reading List selection for science fiction. His newest novel for adults, Defenders, has been optioned for film by Warner Bros. Burning Midnight is his first novel for young adults. Will lives with his wife and twin children in Williamsburg, Virginia, where he is working on his next young adult novel. Check out willmcintosh.net and follow him on Twitter at @WillMcIntoshSF to learn about his other sci-fi adventures.
Praise For Burning Midnight…
Praise for Burning Midnight: 

"In an impressive YA debut, adult SF author McIntosh spins an action-packed adventure. . . . An engaging cast and thought-provoking premise help fuel this thriller." —Publishers Weekly

"A quick read with likable characters, the story is well paced with a quirky view of the future. A great addition to YA sci-fi shelves." —SLJ
 
"[With] a film-ready action climax . . . this fast-paced urban quest wears its agenda on its sleeve, but it's conveyed with verve and an endearing sense of justice." —Kirkus Reviews

"With an inventive premise, this sci-fi adventure offers a scavenger hunt story with layers both political and emotional. The detailed backstory and underlying logic are clearly conveyed without dragging down the pace, and the plot manages to twist and surprise. . . . Ultimately a winning story of friendship in the face of easy money and power, this novel has much to offer the reader who's up for something new." —The Bulletin

"Burning Midnight is for 1) adrenaline junkies and gamers 2) obsessive collectors 3) people who can't get enough of crazy endings. I'm all of these things, and I loved it." —Margaret Stohl, author of Marvel's Black Widow: Forever Red and co-author of the internationally bestselling Beautiful Creatures series

Praise for Will McIntosh
Winner of a Hugo Award for Best Short Story

Nebula Award Finalist

★ "This is speculative fiction at its most personal and powerful, extrapolating current social and technological trends and exploring how they would affect future people. . . . Intriguing, quirky, perversely charming and definitely affecting." —Kirkus Reviews on Love Minus Eighty, Starred Review
 
"[Love Minus Eighty] manages to deliver a light, romantic story without ever sacrificing its dark vision of the future." —i09.com
 
"McIntosh is without a doubt one of the most underrated science fiction authors writing today. Defenders is an emotional, action-packed story. . . . McIntosh's cautionary near-future tale, told from multiple perspectives, serves as a brutally honest portrayal of how humans carelessly exploit, destroy— and in this case create—other species." —RT Book Reviews (Top Pick)
or
Not Currently Available for Direct Purchase