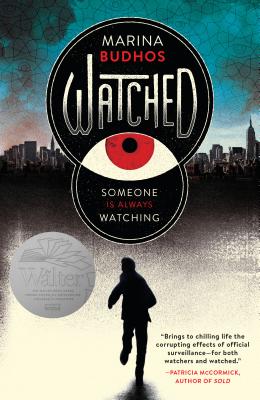 Watched (Hardcover)
Wendy Lamb Books, 9780553534184, 272pp.
Publication Date: September 13, 2016
Description
Marina Budhos's extraordinary and timely novel examines what it's like to grow up under surveillance, something many Americans experience and most Muslim Americans know. Naeem is far from the "model teen." Moving fast in his immigrant neighborhood in Queens is the only way he can outrun the eyes of his hardworking Bangladeshi parents and their gossipy neighbors. Even worse, they're not the only ones watching. Cameras on poles. Mosques infiltrated. Everyone knows: Be careful what you say and who you say it to. Anyone might be a watcher. Naeem thinks he can charm his way through anything, until his mistakes catch up with him and the cops offer a dark deal. Naeem sees a way to be a hero--a protector--like the guys in his brother's comic books. Yet what is a hero? What is a traitor? And where does Naeem belong? Acclaimed author Marina Budhos delivers a riveting story that's as vivid and involving as today's headlines. Praise:
Asian/Pacific American Award for Literature Honor Book
The Walter Award, Honor Book for YA
A Notable Book for a Global Society (NBGS)
CCBC Choices Award Selection for Young Adult Fiction
YALSA Quick Pick
YALSA Best Fiction for Young Adults
Chicago Public Library's Best of the Best
A Junior Library Guild Selection
Maine Student Book Award Reading List.
About the Author
Marina Budhos is the author of award-winning fiction and nonfiction. Her novels for young adults are Watched, Tell Us We're Home, and Ask Me No Questions. Her nonfiction books include Eyes of the World: Robert Capa & Gerda Taro & The Invention of Modern Photojournalism, Remix: Conversations with Immigrant Teenagers and Sugar Changed the World, which she co-wrote with her husband, Marc Aronson. Budhos has received an EMMA (Exceptional Merit Media Award), a Rona Jaffe Award for Women Writers, and two fellowships from the New Jersey Council on the Arts. She has been a Fulbright Scholar to India and is a professor of English at William Paterson University.
Advertisement