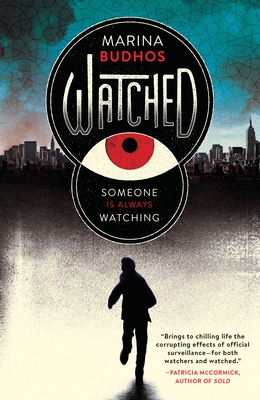 Watched (Paperback)
Ember, 9780553534214, 272pp.
Publication Date: May 15, 2018
Other Editions of This Title:
Digital Audiobook (9/12/2016)
Hardcover (9/13/2016)
CD-Audio (9/13/2016)
* Individual store prices may vary.
Description
An extraordinary and timely novel, a Walter Dean Myers Award Honor Book, examines what it's like to grow up under surveillance in America. 

Be careful what you say and who you say it to. Anyone might be a watcher.
 
Naeem is a Bangledeshi teenager living in Queens who thinks he can charm his way through anything. But then mistakes catch up with him. So do the cops, who offer him an impossible choice: spy on his Muslim neighbors and report back to them on shady goings-on, or face a police record. Naeem wants to be a hero—a protector. He wants his parents to be proud of him. But as time goes on, the line between informing and entrapping blurs. Is he saving or betraying his community?

Inspired by actual surveillance practices in New York City and elsewhere, Marina Budhos's extraordinary and timely novel examines what it's like to grow up with Big Brother always watching. Naeem's riveting story is as vivid and involving as today's headlines.
 
Walter Dean Myers Award Honor Book, We Need Diverse Books
Asian/Pacific American Award for Literature Honor Book
YALSA Best YA Fiction for Young Adults
 
"A fast-moving, gripping tale." —SLJ, Starred



About the Author
Marina Budhos is the author of award-winning fiction and nonfiction. Her novels for young adults are Watched, Tell Us We're Home, and Ask Me No Questions. Her nonfiction books include Eyes of the World: Robert Capa & Gerda Taro & The Invention of Modern Photojournalism, Remix: Conversations with Immigrant Teenagers and Sugar Changed the World, which she co-wrote with her husband, Marc Aronson. Budhos has received an EMMA (Exceptional Merit Media Award), a Rona Jaffe Award for Women Writers, and two fellowships from the New Jersey Council on the Arts. She has been a Fulbright Scholar to India and is a professor of English at William Paterson University.
Praise For Watched…
Walter Dean Myers Award Honor Book, We Need Diverse Books
Asian/Pacific American Award for Literature Honor Book
A Notable Book for a Global Society (NBGS)
CCBC Choices Award Selection for Young Adult Fiction
YALSA Best YA Fiction for Young Adults 
YALSA Quick Pick 
Chicago Public Library's Best of the Best
A Junior Library Guild Selection
Maine Student Book Award Reading List

 "Budhos perfectly captures the gritty details of daily life in a Queens neighborhood, as well as the nuances of different immigrant groups." —SLJ, Starred review

"A compelling coming-of-age story, and even readers who choose to downplay the current events threads will find Naeem's strange path to reconnection with his family rewarding." —The Bulletin

"Beautiful and intelligent...It brings to chilling life the corrupting effects of official surveillance – for both watched and watchers...No one who reads WATCHED– young or old – will come away without empathy and compassion for the thousands of 'Naeems' now residing in this nation."  --Patricia McCormick, author of SOLD 

 "Watched will pull you into its world with magnetic, graceful power, and deeply touching scenes of immigrant life and relationships. A hauntingly perfect, potent story for this moment."—Naomi Shihab Nye, author of Habibi 

"I loved this book, a tense, realistic thriller set right now in a time of homeland insecurity."—Robert Lipsyte, author of The Contender 

"Riveting…Naeem is a wonderful character, full of heart, conflicted, negotiating his own gorgeously, grittily depicted multicultural neighborhood.." —Tanuja Desai Hidier, author of Born Confused 

"Watched  reveals profound immigrant truths about survival and betrayal, and what it really means to feel like you belong. Everyone should read this necessary book."— Moustafa Bayoumi, author of This Muslim American Life & How Does It Feel To Be A Problem? 
 
"Naeem's experiences mirror those of many Muslim, Arab and South Asian teenagers navigating their lives in the backdrop of post 9/11 America. "--Deepa Iyer, author of We Too Sing America: South Asian, Arab, Muslim and Sikh Immigrants Shape Our Multiracial Future