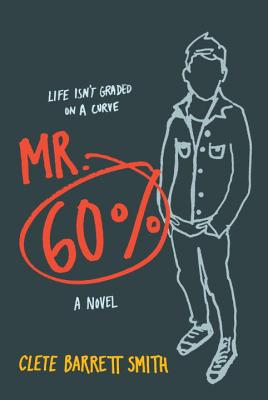 Mr. 60% (Hardcover)
Crown Books for Young Readers, 9780553534665, 192pp.
Publication Date: August 22, 2017
Other Editions of This Title:
Library Binding (8/22/2017)
* Individual store prices may vary.
Description
Witty, honest, and wholly captivating, Mr. 60% is a perfect read for fans of The Spectacular Now and Where Things Come Back.
 
Matt Nolan is the high school drug dealer, deadbeat, and soon-to-be dropout according to everyone at his school. His vice principal is counting down the days until Mr. 60% (aka Matt) finally flunks out and is no longer his problem. What no one knows is the only reason Matt sells drugs is to take care of his uncle Jack, who is dying of cancer.
 
Meet Amanda. The overly cheerful social outcast whose optimism makes Matt want to hurl. Stuck as partners during an after-school club (mandatory for Matt), it's only a matter of time until Amanda discovers Matt's secret. But Amanda is used to dealing with heartbreak, and she's determined to help Matt find a way to give life 100 percent.
About the Author
Clete Barrett Smith is the author of the middle-grade Intergalactic Bed & Breakfast series (Aliens on Vacation, Alien on a Rampage, and Aliens in Disguise), as well as Magic Delivery. A lifelong resident of the Pacific Northwest, Smith taught English, drama, and speech at the high school level while continuing to write. You can follow him on Facebook, on Twitter (@CleteSmith), and online at cletebarrettsmith.com.
Praise For Mr. 60%…
"Emotionally generous and poignantly authentic, Mr. 60% is a much needed reminder of the battles raging in the private lives of strangers. You will be so invested in Matt Nolan, you'll try to turn the pages even after his story ends. Who knew a high school drug dealer could be so universally relatable?" -Katrina Mathewson, writer on Fox Network hit Pitch, former staff writer on Comedy Central's @midnight

"Mr. 60% is a powerful, important story [teen novel] about what heroism looks like in the real world where so many people live." -Terry Trueman, author of the Printz Honor book Stuck in Neutral

"Clete Smith has that rare wonderful gift, the ability to perfectly craft a story to compel the reader to eagerly enjoy one more page, and another, and the next chapter, until the story's perfect end...YA at its very best." -Trent Reedy, author of Divided We Fall