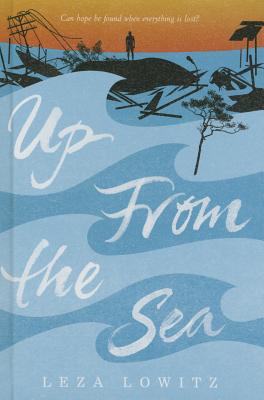 Up From the Sea (Hardcover)
Crown Books for Young Readers, 9780553534740, 272pp.
Publication Date: January 12, 2016
Other Editions of This Title:
Paperback (1/17/2017)
Hardcover (1/12/2016)
* Individual store prices may vary.
Description
A powerful novel-in-verse about how one teen boy survives the March 2011 tsunami that devastates his coastal Japanese village.
 
"Successfully captures the raw emotions of loss, grief, and what it means to move forward." —BuzzFeed
 
On the day the tsunami strikes, Kai loses nearly everyone and everything he cares about. But a trip to New York to meet kids whose lives were changed by 9/11 gives him new hope and the chance to look for his estranged American father. Visiting Ground Zero on its tenth anniversary, Kai learns that the only way to make something good come out of disaster is to return and rebuild.
 
Heartrending yet hopeful, Up from the Sea is a story about loss, survival, and starting anew. 
 
Fans of Jewell Parker Rhodes's Ninth Ward and Karen Hesse's Out of the Dust will embrace this moving story. An author's note includes numerous sources detailing actual events portrayed in the story.

A BOOKRIOT 100 MUST-READ YA BOOKS WRITTEN IN VERSE
A NEW YORK PUBLIC LIBRARY BEST BOOK FOR TEENS, 2016

"Up From the Sea touched me deeply with its beautiful message of hope and the resilience of humanity. Bravo." —Ellen Oh, author of the Prophecy series
 
"It is a moving story of the rebirth of hope in a teen who has lost almost everything. . . . Kai will resonate with teens on a simple human level, just as 3/11 resonates with 9/11." —VOYA
About the Author
Leza Lowitz's writing has appeared in the New York Times, Huffington Post, Shambhala Sun, Asian Jewish Life, and Best Buddhist Writing of 2011. She has published over seventeen books, including the APALA Award–winning YA novel Jet Black and the Ninja Wind, which she co-wrote with her husband, the bestselling Yoga Poems: Lines to Unfold By, and her most recent Here Comes the Sun: A Journey to Adoption in 8 Chakras. Leza, an American, lives in Japan with her husband, Shogo Oketani. You can visit her online at lezalowitz.com.
Praise For Up From the Sea…
A BookRiot 100 Must-Read YA Books Written in Verse
A New York Public Library Best Book for Teens, 2016
An SCBWI 2016 Summer Reading List Recommendation

"A powerful, deeply moving book." —The Japan Times

"Readers who appreciate the power of sports, friendship, and family to heal and to restore will engage with this well-paced emotional journey." —Booklist

"It is a moving story of the rebirth of hope in a teen who has lost almost everything…Kai will resonate with teens on a simple human level, just as 3/11 resonates with 9/11." —VOYA

"Up from the Sea touched me deeply with its beautiful message of hope and the resilience of humanity. Bravo." —Ellen Oh, author of The Prophecy series

"Successfully captures the raw emotions of loss, grief, and what it means to move forward." —Buzzfeed

"Kai's contemplation of his mixed-race status, which has made him the target of bullies, is thoughtful and relatable… The soccer thread … will be a point of connection for many young readers, who will understand how love of a game can sustain people in the hardest of times." —The Bulletin of the Center for Children's Books

"The dramatic scenes depicting the onslaught of Mother Earth's wrath are movie-scene worthy. Lowitz does an outstanding job of capturing the tension felt by Kai as he fights to survive….The book serves as a perfect reminder of the resiliency and toughness of the Tohoku people as well as the challenges they faced." —JQ Magazine (JETWIT)

"A rare contribution to the nearly non-existent English-language literature in Japan focusing on the tsunami survivors, Up From the Sea is recommended for anyone who wants to learn more about the disaster from a personal point of view." —Japan Today

"A beautiful story, tying two major historical events: the Japanese tsunami of 2011 and the 9/11 terrorist attacks."—Ethical ELA

"A story of hope not only for those who lost everything to the tsunami but for the whole of suffering humanity, [Up from the Sea] is a work of great depth, the fruit of long research, and a masterpiece from a writer who feels the cry of humanity very deeply. [It] underscores powerful lessons on the primacy of community...Besides being highly entertaining and captivating, Lowitz's writing is purpose-driven and offers wonderful lessons about recovery, hope, and perseverance."
—Romuald Dzemo, Youdreamawake.com

"A poetic journey that will appeal to readers of any age."—TimeoutTokyo

"This novel is the first artistic response I've read to the 2011 Tohoku disaster and the first time I read it, I cried. The second time I read it I cried too. When you write a book, you put a little bit of your soul into it. Leza's soul is beautiful. When you hear the statistics 'over 15,000 dead' it's hard to imagine…Up From the Sea makes that real." —Texan in Tokyo

"[Up From the Sea] is a deep work, appealing to young adults in being fast-paced and highly visual. This book is really for everyone. It is poetry in the form of a novel and it is beautiful." —Melibelle in Tokyo