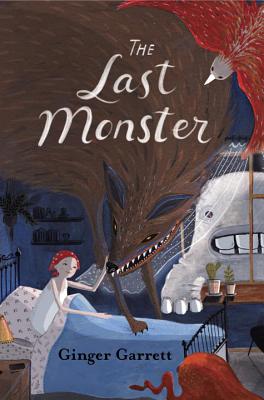 The Last Monster (Hardcover)
Delacorte Books for Young Readers, 9780553535242, 304pp.
Publication Date: April 12, 2016
Other Editions of This Title:
Library Binding (4/12/2016)
* Individual store prices may vary.
Description
A story steeped in magical realism about love, fear, and the thrill of discovering who we were born to be, The Last Monster is a story about making peace with our insecurities and defending those who must hide what they really are.
 
Sofia has never felt special. Not at school, or with her track team, and especially not since she's become sick.

She's always been different, but this doesn't make her stand out . . . it's makes her invisible. Then something special lands right in Sofia's lap. An ancient book that serves as a portal for the Greek philosopher, Xeno, one of Aristotle's lost students. Sofia has been chosen to be the next Guardian.

Suddenly Sofia is not only trying to survive middle-school cliques and first crushes, she's in charge of protecting grotesquely beautiful, lonely monsters that have roamed the Earth for centuries. Drawn into Xeno's violent and unpredictable world of mystery, Sofia learns that loving outsiders has a price.


"While the fantastical elements are compelling, it's the real-world situations that make this book stand out. . . a perfect recommendation for introspective kids who feel like outsiders."--SLJ   

"Garrett's prose, frequently poignant and sophisticated, is punctuated with wry humor."--Kirkus 

"The oft-used concept of finding one's true self is employed here in a uniquely imaginative way, complete with occasional black-and-white illustrations. An appealing tale for readers dealing with their own insecurities."--Booklist 
About the Author
Ginger Garrett graduated from Southern Methodist University in Dallas with a major in theatre arts and a focus on playwriting. Although she applied to the CIA to become an international master of espionage, she had to settle for selling pharmaceuticals for a global corporation. She eventually traveled the world on her own dime and without a fake mustache.

Ginger now lives in Atlanta with her husband, three children, and two rescue dogs. She spends her time baking gluten-free goodness for her friends and family and mentoring middle school students who want to become working writers. Passionate about science, history, and women's studies, Ginger loves exploring new ideas and old secrets. She especially loves good books read late at night.
Ginger is a popular speaker and a frequent guest on radio and television shows. She has been featured in and on media outlets across the country, including Fox News, USA Today, Library Journal, 104.7 The Fish Atlanta, FamilyNet Television, Harvest Television.

You can learn more at gingergarrett.com.
or
Not Currently Available for Direct Purchase