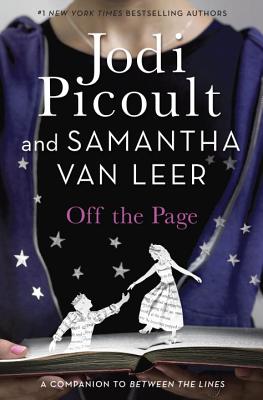 Off the Page (Hardcover)
Delacorte Press, 9780553535563, 384pp.
Publication Date: May 19, 2015
Other Editions of This Title:
Digital Audiobook (5/18/2015)
Compact Disc (5/7/2015)
Paperback (4/19/2016)
* Individual store prices may vary.
Description
From #1 New York Times bestselling authors Jodi Picoult and Samantha van Leer, OFF THE PAGE is a tender and appealing YA novel filled with romance, humor, and adventure.
 
Delilah and Oliver shouldn't be together. But they are together. And just as they're getting used to the possibility that happily ever after may really, truly be theirs, the universe sends them a message they can't ignore: they won't be allowed to rewrite their story.
 
Delilah and Oliver must decide how much they're willing to risk for love and what it takes to have a happy ending in a world where the greatest adventures happen off the page.
 

"Off the Page is just so sweet and magical. In high school, I would have given ANYTHING to crawl inside one of my favorite books to escape the real world. I wish!"—SARAH DESSEN, #1 New York Times bestselling author of Saint Anything
About the Author
Jodi Picoult is the #1 New York Times bestselling author of twenty-five novels, including Small Great Things, Leaving Time, The Storyteller, Lone Wolf, Sing You Home, House Rules, Handle with Care, Change of Heart, Nineteen Minutes, and My Sister's Keeper. She is also the author, with daughter Samantha van Leer, of two young adult novels, Between the Lines and Off the Page. Picoult lives in New Hampshire with her husband and three children.


Samantha van Leer is a sophomore at Vassar College majoring in psychology with a minor in human development. She cowrote the #1 New York Times bestseller Between the Lines, the companion to Off the Page, with her mother, Jodi Picoult.

Jodi and Samantha have four dogs: Alvin, Harvey, Dudley, and Oliver, for whom the prince in this story is named.
Praise For Off the Page…
PRAISE FOR OFF THE PAGE:
 
"A fun, fairy-tale romance for teens who believe in happily ever after."—SLJ
 
"Fairy-tale sweet." —Kirkus Reviews
 
"A lovely fairy tale emphasizing the importance of family and creativity."—Booklist


PRAISE FOR BETWEEN THE LINES:
 
"An exploration of the nature of escapism that asks whether reality is any more real than make-believe, Between the Lines will delight readers of all ages whose imaginations willfully blur that distinction."—Los Angeles Times
 
"Between the Lines is a romance between a girl and a boy, but even more, it's a love letter to the visceral bond between a reader and a musty, beloved book. . . . The fictional Between the Lines is funny and unexpected . . . and it's fascinating to watch the authors address the problem of what it would be like to live not just in a story, but in a physical book."—The Washington Post
 
"What wasn't to love about the exciting, imaginative story of Delilah, a high school student, and the fairy-tale prince she fell in love with, Oliver?"—Bustle.com
 
 
PRAISE FOR #1 NEW YORK TIMES BESTSELLING AUTHOR JODI PICOULT:
 
"Jodi Picoult turns tough topics into bestsellers."—NPR.org
 
"Blockbuster novelist."—Boston Globe
 
"Cultishly successful writer."—The Washington Post
Cliques 1) Why do you think that people tend to be friends with others who are like them? 2) How are you and your friends similar to or different from each other? generic viagra price canada
Appearance 1) What is the significance of physical appearance in Delilah's world versus the world of Oliver's fairy tale? 2) What do the characters' physical appearances reveal about them? 3) How does the author use changes in each character's physical appearance to illustrate his or her development? generic viagra price canada
Acting 1) In your own life, what roles do you play, and how do they affect you? generic viagra price canada
Fate 1) What role does Fate play in the novel, for the characters in Oliver's fairy tale and the characters in Delilah's world? 2) What role do you believe Fate plays in your own life, and in the lives of those around you? generic viagra price canada
Love 1) What are some times when Delilah, Oliver, and Edgar question the true nature of love? 2) How would you answer their questions about what love is? How do you think each character would define love by the end of the novel? Do you agree with one of their definitions of love more than the others? generic viagra price canada
Family 1) Based on his interactions with other characters, who would Oliver consider to be his family? 2) How does your own definition of "family" compare to Oliver's? What are the different shapes that a family might take? 3) Who are the people you consider to be your family, and why? generic viagra price canada
Disappointment 1) Why does Delilah feel disappointed even though her dreams have come true? 2) What is the difference between her expectations and the reality of having Oliver in her world? 3) Why does she remember the warning "Be careful what you wish for" (p. 64)? generic viagra price canada
Freedom 1) Does the fairy tale represent freedom and escape, or does it trap the characters inside it? 2) Do you think Oliver, Edgar, and Delilah find the freedom they are searching for? generic viagra price canada
Reader 1) What do the novel's authors believe about the reader's participation in creating and shaping a story? What elements of the text reveal the authors' beliefs? 2) What is the relationship between an author, the characters, and the reader? 3) What is the role of imagination in storytelling? generic viagra price canada
or
Not Currently Available for Direct Purchase