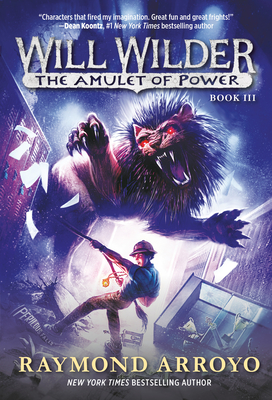 Will Wilder #3
The Amulet of Power
Paperback

* Individual store prices may vary.
Description
Twelve-year-old Will Wilder is back to protect the town of Perilous Falls after he's given an amulet with a lock of Samson's hair. But Will's strength will be pushed to the limit when a new demon causes unimagineable havoc.

Will Wilder yearns to join the Perilous Falls Middle School football team. But he was never big enough or strong enough to make the cut, until he comes in contact with a talisman containing the fabled locks of Samson. But using the Amulet of Power attracts dark forces to Perilous Falls like moths to a flame.

Suddenly, hunched creatures are shadowing people around town, graves are being disturbed, the music of a mysterious DJ lulls half of Perilous Falls into a stupor, and to top it all off, Will is convinced that a teammate may be a demon himself!

As he tries to identify the demon before it causes untold havoc, Wilder family secrets will be unlocked, the limits of physical strength and the power of friendship are tested--and Will might even score a touchdown or two.
Praise For Will Wilder #3: The Amulet of Power…
Praise for the Will Wilder series
"Open the cover, fasten your seat belt, and get ready for a rip-roaring ride!" –Ridley Pearson, author of the New York Times bestselling series Kingdom Keepers

"This new Will Wilder tale will have readers itching for adventures of their own." –N. D. Wilson, author of the acclaimed 100 Cupboards series

"You'll love this wild and thrilling tale. It DOES NOT STOP!" –Dave Barry, #1 New York Times bestselling author

"Great fun and great frights." –Dean Koontz, New York Times bestselling author

"[A]n action-packed story of pith helmets and secret passageways, prophecy and skepticism, temptation and wickedness, and the most agile and lethal great-aunt a boy could hope to have." –The Wall Street Journal

"Surprising spiritual depth with a hearty helping of monsters and miracles." –Kirkus Reviews

"With shades of Indiana Jones and Percy Jackson, Will Wilder's antics are sure to appeal to middle-grade readers looking for the next great adventure." –Booklist
Yearling, 9780553539745, 304pp.
Publication Date: March 24, 2020
About the Author
RAYMOND ARROYO is a New York Times bestselling author, the lead anchor and managing editor of EWTN News, and the host of The World Over Live, a Fox contributor with a bi-weekly spot on The Laura Ingraham Show, and the creator of the Will Wilder series. He lives in New Orleans with his wife and three children. You can follow Arroyo on Facebook and on Twitter at @RaymondArroyo.