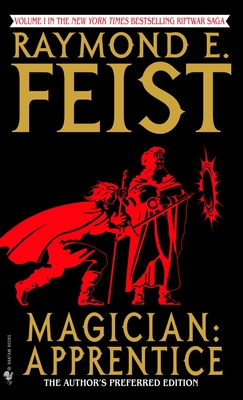 Magician (Mass Market)
Apprentice (Riftwar Cycle: The Riftwar Saga #1)
Spectra, 9780553564945, 512pp.
Publication Date: December 1, 1993
Other Editions of This Title:
Digital Audiobook (10/30/2017)
Paperback (7/9/2019)
Mass Market Paperback (12/1/1985)
* Individual store prices may vary.
Description
A worthy pupil . . . A dangerous quest

To the forest on the shore of the Kingdom of the Isles, the orphan Pug came to study with the master magician Kulgan. But though his courage won him a place at court and the heart of a lovely Princess, he was ill at ease with the normal ways of wizardry.

Yet Pug's strange sort of magic would one day change forever the fates of two worlds. For dark beings from another world had opened a rift in the fabric of spacetime to being again the age-old battle between the forces of Order and Chaos.

Praise for Magician: Apprentice

"Totally gripping . . . A fantasy of epic scope, fast-moving action and vivid imagination."—The Washington Post Book World

"Most exciting . . . A very worthy and absorbing addition to the fantasy field."—Andre Norton

"The best new fantasty in years . . . has a chance of putting its aughor firmly on the trone next to Tolkien—and keeping him there."—The Dragon Magazine

About the Author
Raymond E. Feist is the internationally bestselling author or co-author of more than thirty novels, including Magician, Silverthorn, A Darkness at Sethanon, and Faerie Tale, as well as short stories in bestselling anthologies, including Legends and Legends II, edited by Robert Silverberg. Feist is a graduate of the University of California, San Diego, and still lives in San Diego. He is also executive producer for a scheduled TV series based on his Riftwar Cycle. He is an ardent fan of several sports teams around the world, including the Wolverhampton Wanderers, the St. George Illawara Dragons, the Los Angeles Rams and Lakers, and the San Diego Padres. His other interests include really good whisky, ridiculous numbers of great films, all varieties of music, yelling at politicians on TV, and the company of very smart people.
Praise For Magician: Apprentice (Riftwar Cycle: The Riftwar Saga #1)…
"One of the world's most successful fantasy fiction authors."—The Guardian

"Understandably, this is one of the highest-regarded books in the world."—Fantasy Book Review

"Totally gripping . . . A fantasy of epic scope, fast-moving action and vivid imagination."—The Washington Post Book World

"Most exciting . . . A very worthy and absorbing addition to the fantasy field."—Andre Norton

"The best new fantasty in years . . . has a chance of putting its aughor firmly on the trone next to Tolkien—and keeping him there."—The Dragon Magazine