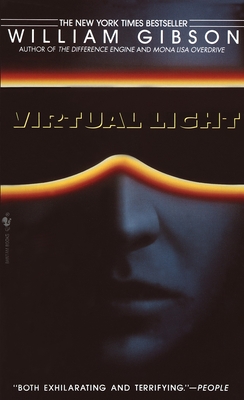 Virtual Light (Mass Market Paperbound)
Spectra Books, 9780553566062, 368pp.
Publication Date: July 1, 1994
Description
2005: Welcome to NoCal and SoCal, the uneasysister-states of what used to be California. Here themillenium has come and gone, leaving in its wakeonly stunned survivors. In Los Angeles, BerryRydell is a former armed-response rentacop now workingfor a bounty hunter. Chevette Washington is abicycle messenger turned pickpocket who impulsivelysnatches a pair of innocent-looking sunglasses. Butthese are no ordinary shades. What you can seethrough these high-tech specs can make you rich--orget you killed. Now Berry and Chevette are on therun, zeroing in on the digitalized heart ofDatAmerica, where pure information is the greatest high.And a mind can be a terrible thing to crash...
About the Author
William Gibson is credited with having coined the term "cyberspace" and having envisioned both the Internet and virtual reality before either existed. He is the author of Neuromancer, Count Zero, Mona Lisa Overdrive, Burning Chrome, Virtual Light, Idoru, All Tomorrow's Parties, Pattern Recognition, Spook Country, Zero History, Distrust That Particular Flavor, and The Peripheral. He lives in Vancouver, British Columbia, with his wife.
Praise For Virtual Light…
  "A stunner... A terrifically stylish burst of  kick-butt imagination." -- Entertainment  Weekly

"Convincing...  Frightening...Virtual Light is  written with a sense of craft, a sense of humor and a  sense of the ultimate seriousness of the problems  it explores." -- Chicago  Tribune

"In the emerging pop culture  of the information age, Gibson is the brightest  star." -- The San Diego Union-Tribune

"Although considered the  master of 'cyberpunk' science fiction, William Gibson  is also one fine suspense writer." --  People
Advertisement