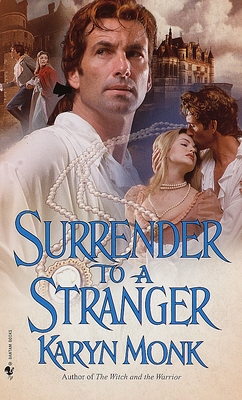 Surrender to a Stranger
A Novel
Mass Market

* Individual store prices may vary.
Description
From Karyn Monk, author of The Witch and the Warrior and Once a Warrior, comes an enthralling love story that is as passionate as it is suspenseful....

She trusted him with her life....

Sentenced to death, Jacqueline never expected to be rescued from her filthy cell by an unlikely visitor--a man whose disguise hid a devastatingly handsome British agent. Now the two were on the run--and for as long as he was there to protect her, she felt strangely safe....

But could she trust him with her heart?

They called him the Black Prince, and to save the unjustly condemned he took hair-raising risks, slipping in and out of courtrooms and prisons, brazenly defying the threat of capture and death. The reckless spy tried to tell himself that Jacqueline was just another prisoner to be spirited away to safety. Yet there was something about her fierce dignity, her unrelenting sense of honor, her unbreakable spirit that made him never want to let her go....

HE RISKED HIS LIFE TO SAVE HERS....

She thought she was about to die when her family's farm came under attack.  Instead, a handsome stranger rode to her rescue and took a bullet to save her.  But when the bloodshed and terror were over,Josephine Armstrong discovered that the man she owed her life to was a British soldier.  She could not betray Lt. Col. Damien Powell -- not after what he'd done for her.  But she would pay dearly for harboring the enemy, forced to prove her patriotism by becoming the rebels' most beautiful spy....

BUT WOULD SHE GIVE HIM HER HEART IN RETURN?

When he saw the lovely young woman struggling with her captor, Damien didn't care which side of the bloody war she was on.  He only knew that he had never seen such an incredible mixture of extraordinary beauty and raw courage in his life.  Yet Damien couldn't know that one day this innocent farm girl was destined to betray him.  She would become Charles Town's most irresistible spy, dazzling officers with her charms even as she stripped them of strategic secrets.  But when a twist of fate brings Josephine back into his life again, Damien will gamble everything on the chance that he can make this exquisite rebel surrender...if only in his arms. -->
Praise For Surrender to a Stranger: A Novel…
"What a riveting and passionate story!"
--Jane Feather

"Newcomer Karyn Monk, stand up and take a bow.  This talented author has gifted readers with a first-rate historical romance that will not soon be forgotten.  Surrender to a Stranger is one of those rare gems that will have'addicted' readers gong back time and time again for yet another heady dose of fantaastic reading."
--The Talisman

"Such a fascinating tale, it kept me mesemerized from beginning to end.  A wonderful reading experience."
--Rendezvous

"You will relish this historical romance."
--Affaire de Coeur

Don't miss Karyn Monk's other spellbinding romances:

The Witch and the Warrior:

"Monk spins a fascinating, readable story of passion and magic that will charm readers who like their historicals laced with humor and appealing characters."
--Library Journal

"An enchanting and delightful read."
--Rocky Mountain News

Once a Warrior:

"Monk grips the reader with her powerful images of Scotland and of war, witty dialogue, strong characters and Arthurian undertones."
--Publishers Weekly

The Rebel and the Redcoat:

"Karyn Monk...lives up to her promise as a strong, vibrant, versatile voice in romance. The Rebel and the Redcoat is not only a fascinating portrait of the Revolution, but a marvelous love story and a pulse-pounding adventure that will win readers' hearts."
--Romantic Times

And look for The Rose and the Warrior in spring 2000
Bantam, 9780553569094, 496pp.
Publication Date: December 1, 1994
About the Author
Karyn Monk has been writing since she was a little girl. While attending university, she discoverd a love for history. After several years working in the highly charged world of advertising, she turned to writing historical romance. She is married with two children.
or
Not Currently Available for Direct Purchase