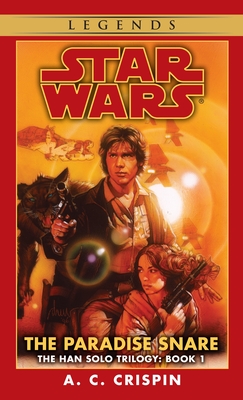 The Paradise Snare (Mass Market Paperbound)
Spectra Books, 9780553574159, 336pp.
Publication Date: May 5, 1997
Description
Here is the first book in the blockbuster trilogy that chronicles the never-before-told story of the young Han Solo. Set before the Star Wars movie adventures, these books chronicle the coming-of-age of the galaxy's most famous con man, smuggler, and thief. The first book in this exciting new Han Solo series begins with a recounting of Han's late teen years and shows us how he escaped an unhappy adopted home situation to carve out an adventurous new life for himself as a pilot. Han Solo, the handsome rogue, is every girl's dream man, and every boy's hero. The Paradise Snare is another stellar Star Wars production, complete with original music and sound effect.
About the Author
A.C. Crispin was the author of the bestselling Han Solo Trilogy. Ms. Crispin writes in her own universes, including her seven book StarBridge series and Storms of Destiny. She also created stories in other media universes, including Star Trek, V, and Alien. Crispin was active in Science Fiction and Fantasy Writers of America and served as the chair of Writer Beware, SFWA's "scam watchdog" volunteer group. She died in 2013.
Advertisement