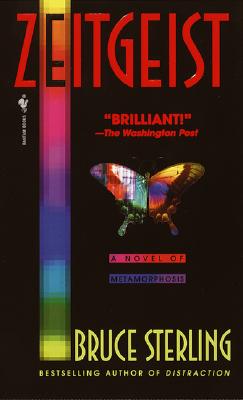 Zeitgeist (Mass Market Paperbound)
Spectra Books, 9780553576412, 288pp.
Publication Date: July 31, 2001
* Individual store prices may vary.
Description
It's 1999, and in the Turkish half of Cyprus, the ever-enterprising Leggy Starlitz has alighted pausing on his mission to storm the Third World with the G-7 girls, the cheapest, phoniest all-girl rock group ever to wear Wonderbras and spandex.
His market is staring him in the face: millions of teenagers trapped in a world of mullahs and mosques, all ready to blow their pocket change on G-7's massive merchandising campaign and to wildly anticipate music the band will never release.
Leggy's brilliant plan means doing business with some of the world's most dangerous people. Among these thieves, schemers, and killers, he must act quickly and decisively. Y2K is just around the corner and the only rule to live by is that the whole scheme stops before the year 2000.
But Leggy's G-7 Zeitgeist is in serious jeopardy, for in Istanbul his former partners are getting restless and the G-7 girls are beginning to die....
About the Author
Bruce Sterling is the author of the nonfiction book The Hacker Crackdown, as well as the novels Distraction, Holy Fire, Heavy Weather, Schismatrix, and Islands in the Net. With William Gibson he co-authored the acclaimed novel The Difference Engine. He also writes for popular science and travel journals. He lives with his wife and two daughters in Austin, Texas.
Praise For Zeitgeist…
"Brilliant!"
— The Washington Post

"A gem."
— Chicago Sun-Times

"Turn-of-the-millennium spectacular ... Y2K's Catch 22!"
— Kirkus Reviews (starred review)

"The book's preliminaries showcase Sterling's erudition about back-page global politics, [but] they're upstaged by his coolest trick: He can write about pop."
— City Pages (Minneapolis)


Also by Bruce Sterling:

Novels:
The Artificial Kid
The Difference Engine (with William Gibson)
Distraction
Heavy Weather
Holy Fire
Involution Ocean
Islands In the Net
Schismatrix

Stories:
Crystal Express
Globalhead
A Good Old-Fashioned Future

Nonfiction:
The Hacker Crackdown: Law and Disorder on the Electronic Frontier

Editor:
Mirror Shades: The Cyberpunk Anthology

or
Not Currently Available for Direct Purchase