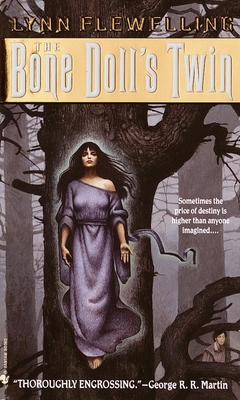 The Bone Doll's Twin (Tamir Triad #1) (Mass Market)
Spectra, 9780553577235, 544pp.
Publication Date: October 2, 2001
Other Editions of This Title:
MP3 CD (8/2/2016)
* Individual store prices may vary.
Description
Sometimes the price of destiny is higher than anyone imagined....

Dark Magic, Hidden Destiny

For three centuries a divine prophecy and a line of warrior queens protected Skala. But the people grew complacent and Erius, a usurper king, claimed his young half sister's throne.

Now plague and drought stalk the land, war with Skala's ancient rival Plenimar drains the country's lifeblood, and to be born female into the royal line has become a death sentence as the king fights to ensure the succession of his only heir, a son. For King Erius the greatest threat comes from his own line — and from Illior's faithful, who spread the Oracle's words to a doubting populace.

As noblewomen young and old perish mysteriously, the king's nephew — his sister's only child — grows toward manhood. But unbeknownst to the king or the boy, strange, haunted Tobin is the princess's daughter, given male form by a dark magic to protect her until she can claim her rightful destiny.

Only Tobin's noble father, two wizards of Illior, and an outlawed forest witch know the truth. Only they can protect young Tobin from a king's wrath, a mother's madness, and the terrifying rage of her brother's demon spirit, determined to avenge his brutal murder....
About the Author
Lynn Flewelling is best known for her Nightrunner series, as well as The Tamír Triad, and her work appears in a dozen languages. She also maintains a lively online presence with her website and her LiveJournal, Talk in the Shadows, and her Facebook page. Born in northern Maine, Flewelling is happily transplanted in Redlands, California, with her husband and some very spoiled dogs.
Praise For The Bone Doll's Twin (Tamir Triad #1)…
"This terrific tale is dark and exciting, and the magic in it is truly wonderful ... A magnificent epic."
— Booklist

"A gripping tale of magic with an unusual form of sex change for added interest. Left me eager for more."
— Locus

"A thoroughly engrossing new fantasy. It got its hooks into me on the first page and didn't let go."
— George R.R. Martin

"A relentless tale that examines whether the ends can ever completely justify the means."
— Robin Hobb

"Fresh and original ... Books like this are too good not to share."
— Katherine Kurtz


Locus magazine called Lynn Flewelling's Nightrunner series "a welcome sight" and "a pleasure to read." Now discover the magic for yourself with this remarkable fantasy trilogy, packed with rogues and spies, assassins and politicians:

Luck in the Shadows
Nightrunner Volume One

Stalking Darkness
Nightrunner Volume Two

Traitor's Moon
Nightrunner Volume Three

Available wherever Bantam Books are sold
or
Not Currently Available for Direct Purchase