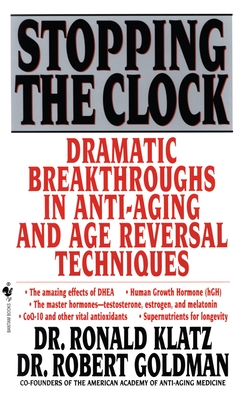 Stopping the Clock (Mass Market)
Dramatic Breakthroughs in Anti-Aging and Age Reversal Techniques
Bantam, 9780553577518, 416pp.
Publication Date: July 1, 1997
* Individual store prices may vary.
Description
Why many of us will live past 100--and enjoy our extra years. In Stopping the Clock, two pioneers of anti-aging medicine show how we can start now to regain energy and vitality, halt or reverse damage to our bodies, and avoid the diseases--heart attack, arthritis, cancer, diabetes--that do most to reduce current life expectancy.



In sixteen fully-documented, information-packed chapters, Klatz and Goldman detail an up-to-the-minute longevity program, including:

The key anti-aging hormones: Melatonin, DHEA, and human growth hormone, how to take them and precautions to use.
The sex hormones: the role of estrogen and progesterone supplementation, including natural alternatives to prescription hormones--plus new research on testosterone supplementation for men and women.
The role of the "miracle minerals"--chromium, selenium and magnesium--and the latest information on the key anti-oxidant vitamins and how to take them.
A thyroid support program to avoid the many dangerous effects of thyroid deficiency.
A sensible approach to anti-aging exercise--plus 25 ways to defeat the aging effects of stress.
The life-long diet--including the top 25 healing foods.
A longevity test to determine your current estimated lifespan.
Personal longevity programs--including daily supplement regiments--from 28 leaders of anti-aging medicine.
Glossary of 75 anti-aging substances available at health-food stores.
About the Author
Ronald Klatz is a leading authority on anti-aging medicine. He is the physician founder and President of the American Academy of Anti-Aging Medicine Inc. a nonprofit medical organization dedicated to the advancement of technology to detect, prevent, and treat aging-related disease and to promote research into methods to retard and optimize the human aging process. Dr. Klatz has also co-founded the National Academy of Sports Medicine, which provides medical specialty training in musculoskeletal rehabilitation, conditioning, physical fitness, and exercise to 35,000 health care professionals internationally. He is a bestselling author of several books, including Grow Young with HGH and Ten Weeks to a Younger You.

Robert Goldman, MD, is a physician and surgeon who also holds a doctorate in steroid biochemistry. He is cofounder, with Dr. Ronald Klatz, of the American Academy of Anti-Aging Medicine, which has thousands of members in more than 37 countries, and, also with Dr. Klatz, of the National Academy of Sports Medicine. He is also coauthor, with Dr. Klatz, of Death in the Locker Room and Stopping the Clock. He lives in Chicago, Illinois.
or
Not Currently Available for Direct Purchase