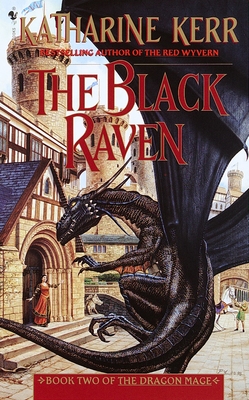 The Black Raven (Mass Market Paperbound)
Spectra Books, 9780553579192, 415pp.
Publication Date: October 31, 2000
Description
For the devoted followers of the dazzling Deverry and Westlands cycle, Katharine Kerr continues the magical epic saga she began in The Red Wyvern. The Black Raven Her latest tale shifts effortlessly between the shattered lands of the Rhiddaer and Dun Deverry itself. At the historic end of the Civil Wars, Lilli, newly apprenticed to the dweomer, fights with her untried powers to save her beloved Prince Maryn from evil. Centuries later, in the city of Cerr Cawnen, the old evil awakens yet again when the sorceress Raena schemes to destroy Rhodry Maelwaedd, her bitter enemy during life after life. But her malice will draw the intervention of astral powers--and unleash the ravaging rage of Rhodry's guardian dragon. Only another untried dweomer can buy safety for the city and the berserker himself--and only at a most fearsome price....
About the Author
Katharine Kerr first became involved in the field of fantasy through role-playing games, feeling so intrigued that she began writing articles for gaming magazines and for some time was a contributing editor to Dragon magazine. This interest soon led her into the field of fantasy writing, with her first Deverry novel, Daggerspell, appearing in 1986. Since then, Kerr has written many more fantasy and science fiction novels. Her Deverry series has hit The Times (London) and the Australian bestseller lists.
Praise For The Black Raven…
Praise for Katharine Kerr

"Katharine Kerr is both a good writer and a thorough Celtic scholar. Indeed, her work is beginning to invite comparisons with Katherine Kurtz's massive Deryni saga."
-- Chicago Sun-Times

"Kerr fluently and gracefully limns her Celtic-based medieval world, depicting attractive and colorful men, women and elves."
-- Publishers Weekly

The boundless imagination of Katharine Kerr
Her novels of Deverry and the Westlands
Daggerspell
Darkspell
The Bristling Wood
The Dragon Revenant
A Time Of Exile
A Time Of Omens
Days Of Blood And Fire
Days Of Air And Darkness
The Red Wyvern

Available from Bantam Spectra Books
Advertisement