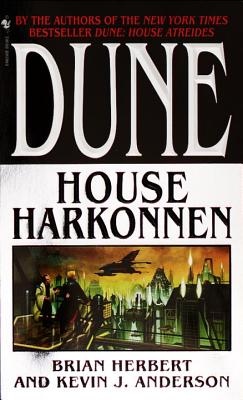 House Harkonnen (Mass Market Paperbound)
Spectra Books, 9780553580303, 733pp.
Publication Date: August 28, 2001
Description
Brian Herbert and Kevin J. Anderson return to the vivid universe of Frank Herbert's Dune, bringing a vast array of rich and complex characters into conflict to shape the destiny of worlds.... As Shaddam sits at last on the Golden Lion Throne, Baron Vladimir Harkonnen plots against the new Emperor and House Atreides -- and against the mysterious Sisterhood of the Bene Gesserit. For Leto Atreides, grown complacent and comfortable as ruler of his House, it is a time of momentous choice: between friendship and duty, safety and destiny. But for the survival of House Atreides, there is just one choice -- strive for greatness or be crushed.
About the Author
Brian Herbert, the son of Frank Herbert, is the author of numerous acclaimed science fiction novels, including Sidney's Comet; Sudanna, Sudanna; Prisoners of Arionn; The Race for God (a Nebula Award nominee); and Man of Two Worlds (written with Frank Herbert). He has also written Dreamer of Dune, a comprehensive biography of his illustrious father. Kevin J. Anderson has written twenty-six national bestsellers and has been nominated for the Nebula Award, the Bram Stroker Award, and the SFX Reader's Choice Award. He also set the Guinness world record for "Largest Single-Author Book Signing."
Praise For House Harkonnen…
Raves for the return of Dune:

"[Fans] rejoice in this chance to return to one of science fiction's most appealing futures."
— The New York Times Book Review

"[The authors] have brought this classic saga back to an exciting and dynamic life."
— The Denver Post


Don't miss the thrilling first novel in Brian Herbert and Kevin J. Anderson's prequel to the Dune saga:

Dune: House Atreides

Available now from Bantam Spectra Books
And coming soon in hardcover:

Dune: House Corrino

Advertisement