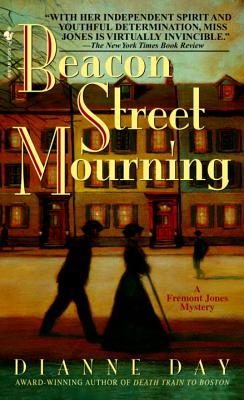 Beacon Street Mourning: A Fremont Jones Mystery (Mass Market Paperbound)
A Fremont Jones Mystery
Bantam, 9780553580617, 304pp.
Publication Date: October 30, 2001
Description
Five years ago Caroline Fremont Jones fled the proper world of her native Boston for the independent life of a California private detective. But now, in the winter of 1909, she is grief-stricken to learn of her father's grave illness. Still hampered by half-healed injuries from her last adventure -- but buoyed by her ever-deepening affection for her partner in love and work, Michael Kossoff -- Fremont leaves sunny San Francisco for the ice-edged air and handsome mansions of Beacon Street. Her visit has scarcely begun when her father, suffering from a malady not even his doctor can diagnose, takes a turn for the better ... only to die suddenly in the middle of the night. Fremont is certain her odious stepmother, Augusta, somehow caused her father's death. But how? And did she have an accomplice? Michael questions Fremont's suspicions ... until an exotic piece of evidence and a second, violent death trigger an investigation that draws upon childhood memories and fears to become Fremont's most personal one yet.
About the Author
Dianne Day spent her early years in the Mississippi Delta before moving to the San Francisco Bay Area. She now lives in Pacific Grove, California, where she is at work on a novel of suspense based on the life of Clara Barton. Fremont Jones has appeared in five previous mysteries: The Strange Files of Fremont Jones, which won the Macavity Award for Best First Novel, Fire and Fog, The Bohemian Murders, Emperor Norton's Ghost, and most recently, Death Train to Boston.
Praise For Beacon Street Mourning: A Fremont Jones Mystery…
"With her independent spirit and youthful determination, Miss Jones is virtually invincible."
— The New York Times Book Review

"Plunging into the rich atmosphere of upper-crust Boston in the winter of 1909, Day's tale mesmerizes with long-festering secrets."
— Booklist

"What is immensely appealing is the care Day takes to recreate the period and differentiate two very different cities on bays 3,000 miles apart. The expert crime-solving, it turns out, is something of a bonus."
— Chicago Tribune


Don't miss Fremont's bestselling adventures:

The Strange Files of Fremont Jones
Macavity Award Winner for Best First Mystery Novel
"One of the most refreshing heroines to appear in years ... Day rates top marks for her crisp, witty dialogue ... cleverly conceived plot, and darkly menacing touches."
— Booklist

Fire and Fog
"This delightful mystery begins with a bang ... and things get more and more complicated from there."
— San Francisco Chronicle

The Bohemian Murders
"A special treat. Highly recommended."
— Chicago Tribune

Emperor Norton's Ghost
"A lively and atmospheric mixture of sharply observed detail and high drama."
— Amazon.com

Death Train to Boston
"An extremely appealing book ... great fun to read."
— The Book Report

And coming soon in hardcover from Doubleday:
Cut to the Heart

Advertisement