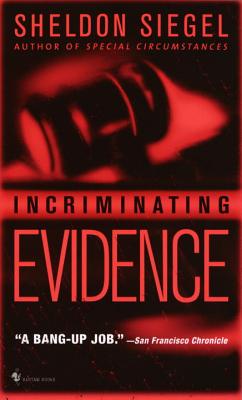 Incriminating Evidence (Mass Market Paperback)
Bantam, 9780553581935, 464pp.
Publication Date: July 30, 2002
Other Editions of This Title:
Paperback (1/23/2014)
Paperback (8/1/2002)
* Individual store prices may vary.
Description
With his terrific first novel, Special Circumstances, Sheldon Siegel delivered legal fiction so exciting, it drew comparisons with the very top tier of courtroom thrillers. Now he has a new challenge for defense attorney Mike Daley--ex-priest, ex-husband, ex-public defender--and it's a high-profile zinger: a case he doesn't think he can win for a client he can't stand.

It starts with a phone call Mike Daley never expected to get, from District Attorney Prentice Marshall Gates III, San Francisco's chief law enforcement officer and front-runner candidate for California attorney general. Friends they're not, but Gates needs Daley now--badly. He's just been arrested. A couple of hours earlier he woke up in his hotel room and found the dead body of a young male prostitute in the bed. Prosecutors are already talking the death penalty, and there's nothing in the mounting evidence to convince Daley and his partner--and ex-wife--Rosie of Gates's innocence. But even if he's lying, it's their job to defend him.

Sure enough, the deeper Mike and Rosie dig, the seamier their findings. From a shady Internet entrepreneur who trades flesh for cash to a prominent businessman who uses muscle to keep his enterprise prospering, Mike and Rosie chase down leads that take them from the depths of the Mission District, where drugs and bodies are always for sale, to the gated mansions of Pacific Heights, frantically trying to piece together the shocking truth of what actually happened, even as the trial itself is under way.
About the Author
Sheldon Siegel, a graduate of the University of California at Berkeley's Boalt Law School, has been in private practice in San Francisco for over seventeen years. He lives in Marin County with his wife and twin sons and is at work on his third novel. "From the Hardcover edition."
Praise For Incriminating Evidence…
"Daley is an original and very appealing character in the overcrowded legal arena — a gentle soul who can fight hard when he has to, and a moral man who is repelled by the greed of many of his colleagues. ... starts with a bang."
— Publishers Weekly

"An effective page-turner.... The trial procedure is fascinating and more believable than most, as Siegel concentrates on legal strategies instead of lawyer's egos."
— Kirkus Reviews


Praise for Sheldon Siegel and Special Circumstances:

"A poignant, feisty tale ... Characters so finely drawn you can almost smell their fear and desperation. The dialogue is taut and tangy."
— USA Today

"A page-turner of the finger-burning kind ... By the time the whole circus ends up in the courtroom, the hurtling plot threatens to rip paper cuts into readers' hands."
— San Francisco Chronicle

"With a winning protagonist and a gripping plot, Siegel's debut is sure to make partner at its first-choice firm: the expanding empire of Turow, Grisham, Lescroart, Wilhelm, Margolin, and Baldacci."
— Publishers Weekly

"It's a hit!"
— Chicago Sun-Times

"A crackling good read."
— Houston Chronicle

"All the hallmarks of a superb legal thriller are here.... [a] stellar debut."
— Booklist
or
Not Currently Available for Direct Purchase