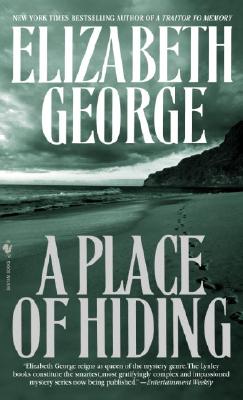 A Place of Hiding (Mass Market Paperback)
Bantam, 9780553582376, 800pp.
Publication Date: August 3, 2004
* Individual store prices may vary.
or
Not Currently Available for Direct Purchase
Description
An isolated beach on the island of Guernsey in the English Channel is the scene of the murder of Guy Brouard, one of Guernsey's wealthiest inhabitants and its main benefactor. Forced as a child to flee the Nazis in Paris, Brouard was engaged in his latest project when he died: a museum in honor of those who resisted the German occupation of the island during World War II.

It is from this period of time that his murderer may well have come. But there are others on Guernsey with reason to want Guy Brouard dead: his wives, his business associates, his current mistress, the underprivileged teenagers he mentored—any of whom might have harbored a secret motive for murder. As family and friends gather for the reading of the will, Deborah and Simon St. James find that seemingly everyone on the history-haunted island has something to hide. And behind all the lies and alibis, a killer is lurking. In order to bring this person to justice, the St. James must delve into Guernsey's dark history—both past and present—and into the troubled psyche of someone who may have exacted retribution for the most unspeakable crime of all.

In A Place of Hiding, bestselling novelist Elizabeth George marks new territory in the darker landscapes of human relationships. She tells a gripping, suspenseful story of betrayal and devotion, war and remembrance, love and loss...and the higher truths to which we must all ultimately answer.
About the Author
Elizabeth George's first novel, A Great Deliverance, was honored with the Anthony and Agatha Best First Novel Awards and received the Grand Prix de Litterature Policiere. Her third novel, Well-Schooled in Murder, was awarded the prestigious German prize for suspense fiction, the MIMI. A Suitable Vengeance, For the Sake of Elena, Missing Joseph, Playing for the Ashes, In the Presence of the Enemy, Deception on His Mind, In Pursuit of the Proper Sinner, A Traitor to Memory, and I, Richard were international bestsellers. Elizabeth George divides her time between Huntington Beach, California, and London. Her novels are currently being dramatized by the BBC. "From the Hardcover edition."
Advertisement