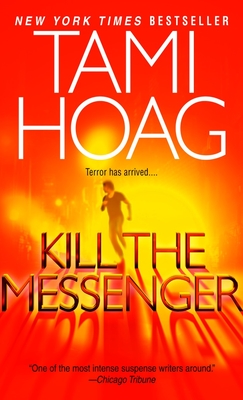 Kill the Messenger
Mass Market

* Individual store prices may vary.
Other Editions of This Title:
Digital Audiobook (7/5/2004)
Digital Audiobook (7/5/2004)
Paperback (6/1/2011)
Audio Cassette (7/6/2004)
Description
With this new thriller, The New York Times bestselling author Tami Hoag delivers her own message to suspense fans everywhere: Don't turn off the lights, and keep reading if you dare. From the gritty streets of Los Angeles to its most protected enclaves of prestige and power to the ruthless glamour of Hollywood, a killer stalks his prey. A killer so merciless no one in his way is safe—not even the innocent.

At the end of a long day battling street traffic, bike messenger Jace Damon has one last drop to make. But en route to delivering a package for one of L.A.'s sleaziest defense attorneys, he's nearly run down by a car, chased through back alleys, and shot at. Only the instincts acquired while growing up on the streets of L.A. allow him to escape with his life—and with the package someone wants badly enough to kill for.

Jace returns to Lenny Lowell's office only to find the cops there, the lawyer dead, and Jace himself considered the prime suspect in the savage murder. Suddenly he's on the run from both the cops and a killer, and the key to saving himself and his ten-year-old brother is the envelope he still has—which holds a message no one wants delivered: the truth.

In a city fueled by money, celebrity, and sensationalism, the murder of a bottom-feeding mouthpiece like Lenny Lowell won't make the headlines. So when detectives from the LAPD's elite robbery/homicide division show up, homicide detective Kev Parker wants to know why. Parker is on the downhill slide of a once-promising career, and he doesn't want to be reminded that he used to be one of the hotshots, working cases that made instant celebrities of everyone involved. Like the case of fading retty-boy actor Rob Cole, accused of the brutal murder of his wife, Tricia Crowne-Cole, daughter of one of the most powerful men in the city, L.A.'s latest "crime of the century."

Robbery/Homicide has no reason to be looking at a dead small-time scumbag lawyer or chasing a bike messenger...unless there's something in it for them. Maybe Lenny Lowell had a connection to something big enough to be killed for. Parker begins a search for answers that will lead him to a killer—or the end of his career. Because if there's one lesson he's learned over the years, it's that in a town built on fantasy and fame, delivering the truth can be deadly.
Praise For Kill the Messenger…
"In a genre overrun with self-conscious jargon, brooding descriptions and fragments masquerading as sentences, her clean, measured prose—full, balanced sentences delivered at a steady pace—doesn't so much create an ominous mood as draw the reader into the worlds of her characters."—Publishers Weekly"Brisk ... Scandal-prone detective Kev Parker ... gives Kill the Messenger its juice and keeps readers hooked."—San Francisco Chronicle Books
Bantam, 9780553583588, 528pp.
Publication Date: February 28, 2006
About the Author
Tami Hoag's novels have appeared regularly on national bestseller lists since the publication of her first book in 1988. She lives in Los Angeles.
or
Not Currently Available for Direct Purchase