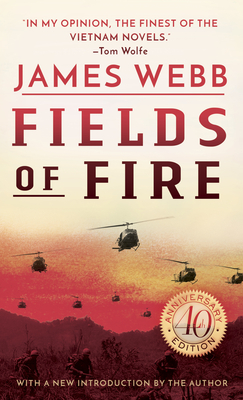 Fields of Fire (Mass Market)
A Novel
Bantam, 9780553583854, 480pp.
Publication Date: August 28, 2001
Other Editions of This Title:
Digital Audiobook (6/2/2013)
Paperback (5/10/2000)
Compact Disc (6/3/2013)
Compact Disc (6/3/2013)
MP3 CD (6/3/2013)
* Individual store prices may vary.
Description
"In my opinion, the finest of the Vietnam novels."—Tom Wolfe

They each had their reasons for joining the Marines. They each had their illusions. Goodrich came from Harvard. Snake got the tattoo—"Death Before Dishonor"—before he got the uniform. Hodges was haunted by the ghosts of family heroes. They were three young men from different worlds, plunged into a white-hot, murderous realm of jungle warfare as it was fought by one Marine platoon in the An Hoa Basin, 1969. They had no way of knowing what awaited them. Nothing could have prepared them for the madness to come. And in the heat and horror of battle they took on new identities, took on one another, and were each reborn in fields of fire.

Fields of Fire is James Webb's classic novel of the Vietnam War, a novel of poetic power, razor-sharp observation, and agonizing human truths seen through the prism of nonstop combat. Weaving together a cast of vivid characters, Fields of Fire captures the journey of unformed men through a man-made hell—until each man finds his fate.

Praise for Fields of Fire

"Few writers since Stephen Crane have portrayed men at war with such a ring of steely truth."—The Houston Post

"A stunner . . . Webb gives us an extraordinary range of acutely observed people, not one a stereotype, and as many different ways of looking at that miserable war."—Newsweek

"A novel of such fullness and impact, one is tempted to compare it to Norman Mailer's The Naked and the Dead."—The Oregonian

"Webb's book has the unmistakable sound of truth acquired the hard way. His men hate the war; it is a lethal fact cut adrift from personal sense. Yet they understand that its profound insanity, its blood and oblivion, have in some way made them fall in love with battle and with each other."—Time
About the Author
At the age of twenty-three, James Webb became one of the most highly decorated Marines of the Vietnam War, receiving among other honors the Navy Cross for "extraordinary heroism" and two Purple Hearts. His subsequent career has been divided between writing and public service. The author of ten books, including six bestselling novels, a filmmaker, and an Emmy Award–winning journalist, Webb also served as a committee counsel in Congress, an Assistant Secretary of Defense and Secretary of the Navy, and as a member of the United States Senate. The father of six children, he lives in Virginia with his wife, Hong Le Webb, who was born in Vietnam and is a graduate of Cornell Law School.
Praise For Fields of Fire: A Novel…
"Few writers since Stephen Crane have portrayed men at war with such a ring of steely truth."—The Houston Post

"In swift, flexible prose that does everything he asks of it—including a whiff of hilarious farce just to show he can do it—Webb gives us an extraordinary range of acutely observed people, not one a stereotype, and as many different ways of looking at that miserable war . . . Fields of Fire is a stunner."—Newsweek

"James Webb has rehabilitated the idea of the American hero—not John Wayne, to be sure, but every man, caught up in circumstances beyond his control, surviving the blood, dreck, and absurdity with dignity and even a certain elan. Fields of Fire is an antiwar book, yes, but not naively, dumbly anti-soldier or anti-American . . . Webb pulls off the scabs and looks directly, unflinchingly on the open wounds of the Sixties."—Philadelphia Inquirer

"Webb's book has the unmistakable sound of truth acquired the hard way. His men hate the war; it is a lethal fact cut adrift from personal sense. Yet they understand that its profound insanity, its blood and oblivion, have in some way made them fall in love with battle and with each other."—Time

"A novel of such fullness and impact, one is tempted to compare it to Norman Mailer's The Naked and the Dead."—The Oregonian

"In my opinion, the finest of the Vietnam novels."—Tom Wolfe