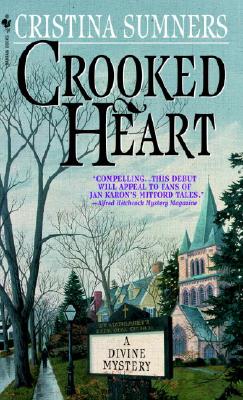 Crooked Heart (Mass Market Paperbound)
Bantam, 9780553584301, 336pp.
Publication Date: September 30, 2003
* Individual store prices may vary.
or
Not Currently Available for Direct Purchase
Description
From a luminous new voice in suspense fiction comes this wise, witty, and uplifting novel--a mystery with heart that will illuminate more than just whodunit and why. In her stunning debut, Cristina Sumners, an Episcopalian priest brings to life an unforgettable town, a less-than-perfect crime, and two flawed souls hoping to solve the mysteries of life, death...and possibly even love.
Life isn't easy for Tom Holder. Middle-aged, appallingly married, and bored out of his wits, Tom is Chief of Police in Harton--an idyllic New Jersey town where, in spite of its eccentric cast of characters, nothing ever seems to happen. His dreary routine is brightened only by his visits to St. Margaret's Episcopal Church, where he can be sure of seeing the clever Reverend Kathryn Koerney, with whom he is secretly and hopelessly smitten. Tom is quietly wishing for a nice, interesting crime, if only to have something to discuss with the lady priest, who seems almost as confused by their nonrelationship as he is. He's about to get all that--and a whole lot more than he bargained for.
When an affluent housewife is reported missing by her clearly hostile husband, Tom not only has a bona fide murder mystery on his hands, he has a perfect excuse to enlist Kathryn's help. The only person who may know what happened to Grace Kimbrough is a feverish child, and Tom--past master at nosy neighbors, flirtatious shut-ins, and the usual small-town neurotics--has precious little experience with children. Now, with a second woman missing, Tom's and Kathryn's sense of urgency to learn the truth about the disappearances--and about their feelings for each other--deepens.
Together Tom and Kathryn will unravel more than just the secrets holding together the seemingly peaceful town, secrets that may conceal a crime of passion, jealousy, and rage. They will probe the mysteries of their own all-too-fallible, all-too-human hearts. And the miracles that might, just might, occur--even after a lifetime of playing it too safe.
From the Hardcover edition.
About the Author
Cristina Sumners holds a B.A. in English from Vassar, an M.Div. from the General Theological Seminary of the Episcopal Church, and an M.Phil. in medieval English studies from Oxford University. She has taught English and religious studies, and has served churches in Texas and England. Married to a scientist, she lives in Taos, New Mexico, where she is at work on her second suspense novel, Thieves Break In. From the Hardcover edition.
Praise For Crooked Heart…
"The Reverend Kathryn Koerney is a hoot and a half, the type of priest even an atheist could love. Whether's she's outwitting the local police chief, or agonizing over her feelings for the older married man even as she preaches about lust, this unorthodox sleuth keeps the plot hopping in a fast, witty, suspenseful page turner."
--Parnell Hall
Advertisement