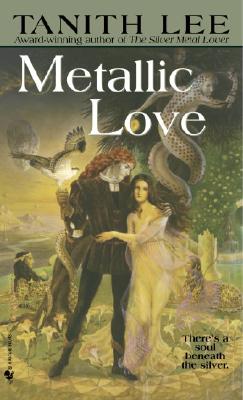 Metallic Love (Mass Market Paperbound)
Spectra Books, 9780553584714, 336pp.
Publication Date: March 1, 2005
Description
In her now-classic tale The Silver Metal Lover, award-winning author Tanith Lee told the spellbinding story of Jane and her forbidden love for a robot named Silver. In this stunning follow-up, the legend of their tragic romance lives on. But nothing is as it was-or as it seems.... As an orphan growing up in the slums, Loren read her clandestine copy of Jane's Story over and over, relishing every word. But Loren is no Jane. Savvy and street-smart, Loren could never be stirred by a man of metal, her passion never ignited by an almost-human-even one designed for pleasure. Still, when the META corporation does the unthinkable and brings back updated versions of robots past-Loren knows she must see Silver. And just like Jane, it is love at first sight. But Silver is now Verlis. If he was perfection before, he is now like a god. Yet he is more human than his creators think-or fear. While Loren doesn't quite trust him, she will follow her twice-born lover into a battle to control his own destiny-one that
will reveal to her the most astonishing illusion of all.
About the Author
Tanith Lee was born in 1947 in London, England. She received her secondary education at Prendergast Grammar School, Catford. She began to write at the age of 9. After school she worked variously as a library assistant, a shop assistant, a filing clerk, and a watiress. At age 25 she spent 1 year at art college. From 1970 to 1971 three of Lee's children's books were published. In 1975 DAW Books USA published Lee's The Birthgrave, and thereafter 26 of her books, enabling her to become a full-time writer. To date she has written 58 novels and 9 collections of novellas and short stories. Four of her radio plays have been broadcast by the BBC and she has written 2 episodes of the BBC cult series Blake's Seven. Her work has been translated into over 15 languages. Lee has twice won the World Fantasy Award for short fiction, and was awarded the August Derleth Award in 1980 for her novel Death's Master. In 1992 Lee married the writer John Kahne, her partner since 1987. They live in southeast England with one black-and-white cat.
Praise For Metallic Love…
"Like Richard Calder in his Dead Girls or Philip K. Dick in practically his whole canon, Lee explores the sexuality of machinery and the machinery of sexuality: lust, dust and rust."--Washington Post Book World
Advertisement