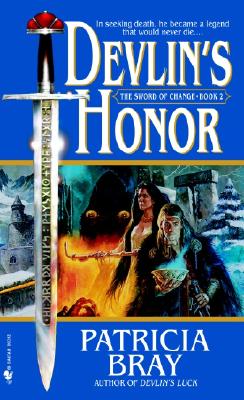 Devlin's Honor (Mass Market Paperbound)
Spectra Books, 9780553584769, 416pp.
Publication Date: June 3, 2003
* Individual store prices may vary.
or
Not Currently Available for Direct Purchase
Description
Devlin of Duncaer is the Chosen One, champion of the Kingdom of Jorsk. A simple metalsmith and farmer turned warrior, he has become the most unlikely of heroes to the conquerors of his own people, the Caerfolk. Yet there is a growing faction of Jorskians who believe that if he were truly anointed as Chosen One by the Gods, then the immortals would have given him the Sword of Light as proof of his calling. Missing for generations, the sword is more myth than reality. But Devlin knows where to find it. Lost in battle after the Jorskians' brutal massacre of Caerfolk, it has remained in Duncaer, a souvenir of one of the land's darkest days. Feeling more than ever a pawn of fate--and a plaything of the Gods who drive him--Devlin must return to the land of his birth, back to the people who have denounced him. For he is bound by an oath he has no choice but to obey...a promise he may have to die to keep.
About the Author
Patricia Bray inherited her love of books from her parents, both of whom were fine storytellers in the Irish tradition. She has always enjoyed spinning tales, and turned to writing as a chance to share her stories with a wider audience. Patricia holds a master's degree in Information Technology, and combines her writing witha a full-time career as an I/T Project Manager.
Advertisement