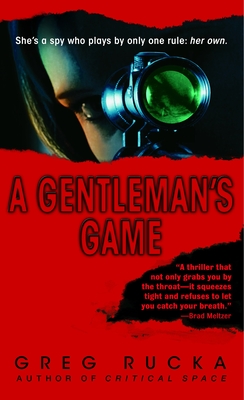 A Gentleman's Game (Mass Market Paperbound)
Bantam Books, 9780553584929, 481pp.
Publication Date: July 26, 2005
* Individual store prices may vary.
or
Not Currently Available for Direct Purchase
Description
Tara Chace may be the most dangerous woman alive. She can seduce you into believing she's the woman of your dreams--or kill you with the icy efficiency of an executioner. As the new head of Special Operations for British Intelligence, she no longer has to court death in the field--she wants to.
Throw away the old rules, the old school, the old-boy network. The world of international espionage is about to learn the hard way that spying is no longer merely...
A Gentleman's Game
Greg Rucka's electrifying thrillers have pushed the boundaries of suspense fiction to where few have dared to go. Now, in A Gentleman's Game, one of the genre's most fearless writers brings readers of international espionage his most
fearless heroine yet: a no-holds-barred woman who's as lethal as an assassin's bullet.
When an unthinkable act of terror devastates London, nothing will stop Tara Chace from hunting down those responsible. Her job is simple: stop the terrorists before they strike a second time. To succeed, she'll do anything and everything it takes. She'll have to kill again.
Only this time the personal stakes will be higher than ever before. For the terrorist counterstrike will require that Tara allow herself to be used as bait by the government she serves. This time she's turning her very life into a weapon that can be used only once. But as she and her former mentor race toward destiny at a remote terrorist training camp in Saudi Arabia, Tara begins to question just who's pulling the trigger--and who's the real enemy. In this new kind of war, betrayal can take any form...including one's duty to queen and country.
Based on the graphic novel series that won the coveted Eisner Award, A Gentleman's Game is an electrifyingly realistic, headline-stealing thriller with an unforgettable protagonist--one who redefines every rule she doesn't shatter.
About the Author
Born in San Francisco, Greg Rucka was raised on the Monterey Peninsula. He is the author of Private Wars, A Gentleman's Game, and six previous thrillers, as well as numerous comic books, including the Eisner Award--winning Whiteout: Melt. He lives in Portland, Oregon, with his family. From the Hardcover edition.
Praise For A Gentleman's Game…
"Superb pacing, offbeat characters, wry plot twists ... an engrossing read."—Publishers Weekly

"Rucka has crafted his finest novel yet…. The rare spy novel that rewards patient readers with action that feels earned, not forced … and with revelations that cause shivers, not disbelief."—Entertainment Weekly, "A"

"Rucka keeps the adrenaline level high throughout…. Tara is tough and gritty, and her world is one of moral ambiguity."—San Francisco Chronicle Books
Advertisement