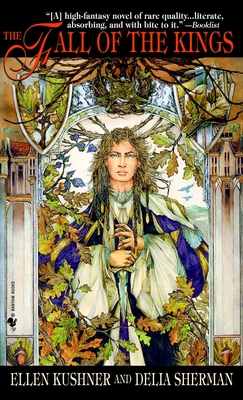 The Fall of The Kings (Riverside #2)
Mass Market

* Individual store prices may vary.
Description
This stunning follow-up to Ellen Kushner's cult-classic novel, Swordspoint, is set in the same world of labyrinthine intrigue, where sharp swords and even sharper wits rule. Against a rich tapestry of artists and aristocrats, students, strumpets, and spies, a gentleman and a scholar will find themselves playing out an ancient drama destined to explode their society's smug view of itself–and reveal that sometimes the best price of uncovering history is being forced to repeat it….

The Fall of the Kings

Generations ago the last king fell, taking with him the final truths about a race of wizards who ruled at his side. But the blood of the kings runs deep in the land and its people, waiting for the coming together of two unusual men, Theron Campion, a young nobleman of royal lineage, is heir to an ancient house and a modern scandal. Tormented by his twin duties to his family and his own bright spirit, he seeks solace in the University. There he meets Basil St. Cloud, a brilliant and charismatic teacher ruled by a passion for knowledge–and a passion for the ancient kings. Of course, everyone now knows that the wizards were charlatans and the kings their dupes and puppets. Only Basil ins not convinced–nor is he convinced that the city has seen its last king…
Praise For The Fall of The Kings (Riverside #2)…
PRAISE FOR THE FALL OF THE KINGS:

"Immensely appealing, intelligent, and great fun."
--Kirkus Reviews

"The authors tap into fantasy's genuine source of drama, its ability to haunt, appall, transform."
-- Locus

"Embraces the age-old struggle between scholars and mystics...to bridge the gulf that separates history from mystery."
--Fantasy & Science Fiction

"One of the bawdiest and most intellectually stimulating novels of the year!"
--BookPage

"Richly textured...authentic...A fantasy novel that won't insult your intelligence."
--Science Fiction Chronicle

"Gorgeous prose and a galloping story, with...a deep understanding of a true scholar's passion for his subject."
--Mary Doria Russell, author of The Sparrow

"Stunning...If Oscar Wilde were writing high fantasy, he'd want to write The Fall of the Kings."
--Sarah Smith, author of A Citizen of the Country

"Attractive characters, realistically enmeshed in social, political, and personal concerns... realized with a robust depth and realism."
--Suzy McKee Charnas, author of My Father's Ghost

"Kushner and Sherman don't spin fables or knit fancies: they are world-forgers, working in a language of iron and air."
--Gregory Maguire, author of Wicked and Lost

"The Fall of the Kings is, if possible, even better [than Swordspoint]--twistier and deeper."
--Neil Gaiman, author of American Gods

"Splendid....one of my favorite books this year!"
--Charles de Lint, author of The Onion Girl

"This is how fantasy should be written!...sweeps you in and lets you live the story with the characters."
--Lynn Flewelling, author of The Bone Doll's Twin

"A delicious read . . . dark, sexy, and wickedly funny by turns. I loved it. You'll love it too."
--Terri Windling, editor of The Year's Best Fantasy and Horror

"Ellen Kushner writes like an angel...pellucid, poetically structured prose [and] a gathering sense of tragic reality."
--Algis Budrys
Bantam, 9780553585940, 528pp.
Publication Date: September 30, 2003
About the Author
Ellen Kushner's Riverside series begins with the cult classic Swordspoint, followed by the Locus Award winner and Nebula Award nominee The Privilege of the Sword; The Fall of the Kings, written with Delia Sherman; and, most recently, the collaborative prequel Tremontaine. Her mythic fantasy novel Thomas the Rhymer won the World Fantasy Award and the Mythopoeic Award. She also co-edited Welcome to Bordertown with Holly Black. A popular performer and public speaker, Kushner created and hosted the long-running public radio show Sound & Spirit, which Bill Moyers called "the best thing on public radio." She has taught creative writing at the Clarion and Odyssey writing workshops and is an instructor at Hollins University's children's literature MFA program. She lives in New York City with Delia Sherman and no cats whatsoever, in an apartment full of theater and airplane ticket stubs.

Delia Sherman is the author of Changeling and The Magic Mirror of the Mermaid Queen. She lives in New York City.
or
Not Currently Available for Direct Purchase