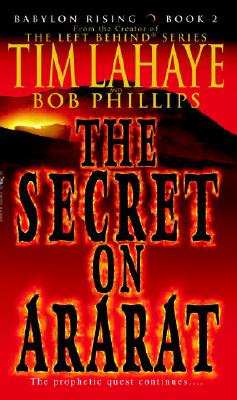 Babylon Rising: The Secret on Ararat (Mass Market Paperbound)
The Secret on Ararat
Bantam, 9780553586077, 384pp.
Publication Date: November 28, 2006
Description
Tim LaHaye, creator of the phenomenally successful Left Behind(R) books, continues his newest top-ten New York Times bestselling series: Babylon Rising. The heroic Michael Murphy--"cool, brainy, sexy, and valiant"*--hurtles into his second whirlwind adventure in pursuit of Biblical artifacts. In Babylon Rising Tim LaHaye began an adventure series that he calls even more exciting than his 50-million-plus-copy bestselling Left Behind series. Readers agreed, as the novel debuted as a top-ten New York Times bestseller. Now, in the second Babylon Rising novel, Biblical scholar, archaeologist, professor, and hero for our times Michael Murphy is in pursuit of one of the most mysterious and sought-after of all Biblical artifacts, Noah's Ark. As Murphy undertakes his death-defying quest to ascend Mount Ararat, he will discover dramatic revelations of Biblical prophecies and be drawn even closer to the most terrifying evil about to be unleashed on all mankind. With The Secret on Ararat following close on the heels of Glorious Appearing, the fastest-selling Left Behind novel ever, Tim LaHaye will further prove to be one of the most fascinating and popular storytellers of our time.
About the Author
Dr. Tim LaHaye is a renowned prophecy scholar, minister, and author. His Left Behind(R) series is the bestselling Christian fiction series of all time. He and his wife, Beverly, live in southern California. They have four children and nine grandchildren. Bob Phillips, Ph.D., is the author of more than eighty books. He is a licensed counselor and Executive Director for the Pointman Leadership Institute. From the Hardcover edition.
Advertisement