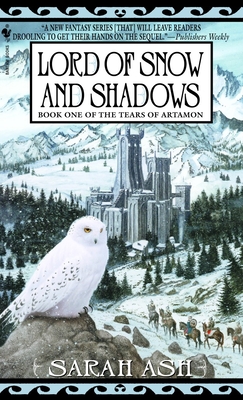 Lord of Snow and Shadows: Book One of the Tears of Artamon (Mass Market Paperbound)
Book One of the Tears of Artamon
Spectra Books, 9780553586213, 608pp.
Publication Date: June 29, 2004
* Individual store prices may vary.
or
Not Currently Available for Direct Purchase
Description
Combining the best of fantasy traditions with her own unique vision, Sarah Ash brings to dazzling life a new saga filled with epic adventure and unforgettable characters. Far-reaching in scope and imagination, Lord of Snow and Shadows embarks on a journey like no other--into a shape-shifting world teeming with political intrigue, astonishing magic, and passions both dark and light.
Raised by his protective mother in the sunny clime of the south, Gavril Andar knows nothing of his father--or the ominous legacy that awaits him. But his innocence is about to be shattered. The man who ruled the wintry kingdom of Azhkendir, a man infused with the burning blood of the dragon-warrior known as Drakhaoul, has been murdered by his enemies. It is his fiery, chameleonlike blood that pulses through Gavril's veins. The news is Gavril's first taste of death--but it will not be his last. For blood is the liquid that seals his fate.
Expected by clan warriors from the north to avenge his father's murder--and still his unquiet ghost--Gavril is kidnapped. He soon learns that becoming Drakhaon means not only ascending to the throne of Azhkendir but changing, in subtle ways at first, into a being of extraordinary power and might. A being that must be replenished with the blood of innocentsin order to survive. Ensconced in Kastel Drakhaon with no means of escape from the icebound kingdom, and carefully watched by neighboring rulers waiting to move against him, the untested Gavril must fight to retain his human heart and soul in the face of impending war--and the dark instincts that threaten to overpower him.
Man and beast, spymaster and insurgent, nature and the netherworld--all collide in phenomenal twists and turns. A masterwork of adventure fantasy, Lord of Snow and Shadows will leave you stunned--and longing for more.
About the Author
Sarah Ash is the author of six fantasy novels: Children of the Serpent Gate, Lord of Snow and Shadows, Prisoner of the Iron Tower, Moths to a Flame, Songspinners, and The Lost Child. She also runs the library in a local primary school. Ash has two grown sons and lives in Beckenham, Kent, with her husband and their mad cat, Molly.
Advertisement