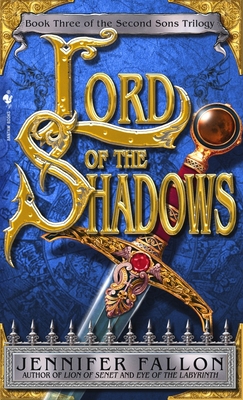 Lord of the Shadows (Mass Market Paperbound)
Spectra Books, 9780553586701, 592pp.
Publication Date: June 1, 2004
Description
Darkness threatens Ranadon again in the form of an eclipse. The Goddess wants to give the people of Ranadon a sign--and only Dirk Provin can interpret it. To do so, Dirk has systematically betrayed his one-time allies to join his most hated enemies. Now, with neither side trusting him, Dirk sets his own devious plot in motion
Senet's Crippled Prince, Misha, has found unexpected and tenuous sanctuary among the Baenlanders of Mil. To secure their trust, he offers them the one thing they cannot refuse. Meanwhile, Alenor, Queen of Dhevyn, betrayed by her husband, Kirsh, and Tia Veran, deceived by Dirk, set out for revenge and to finally free their people at any cost. As the second sons and the rest of their generation
pursue different paths to survival and freedom, they discover that the will of the Goddess--and of men--works in mysterious ways. And as Dirk's old enemies join with new ones, his attempt to save Ranadon may cost him his friends, his love...and his life.
About the Author
Jennifer Fallon lives in Alice Springs in Central Australia where she writes full time and works occasionally as a Trainer in Business Administration and Computing. She shares her house with 2 dogs, 2 cats, lots of stray people, and a collection of dragons from all over the world.
Praise For Lord of the Shadows…
"[The Lion of Senet has] characters that grow, intrigue that deepens--a writer to watch in the future."
--Janny Wurts

"The best fantasy I've read this year . . . anyone who loves Guy Gavriel Kay or George RR Martin will devour this book."
--Nexus

"Fallon writes with a fresh and engaging touch."
--NW Magazine?
Advertisement