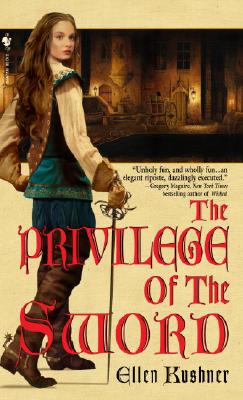 The Privilege of the Sword (Mass Market Paperback)
Spectra, 9780553586961, 480pp.
Publication Date: June 26, 2007
* Individual store prices may vary.
or
Not Currently Available for Direct Purchase
Description
Welcome to Riverside, where the aristocratic and the ambitious battle for power in the city's ballroom, brothels and boudoirs. Into this alluring world walks Katherine, a well-bred country girl versed in the rules of conventional society. Her mistake is thinking that they apply. For Katherine's host and uncle, Alec Campion, aka the Mad Duke Tremontaine, is in charge here—and to him, rules are made to be broken. When Alec decides it would be more amusing for his niece to learn swordplay than to follow the usual path to marriage, her world changes forever. Blade in hand, it's up to Katherine to navigate a maze of secrets and scoundrels and to gain the self-discovery that comes to those who master: the privilege of the sword.
About the Author
Ellen Kushner is a novelist, performer, and public radio personality. Her work includes the weekly notational public radio series "PRI's Sound & Spirit with Ellen Kushner, "the recording" The Golden Dreydl: a Klezmer 'Nutcracker' for Chanukah "(Ryykodisc CD) and a live performance piece, "Esther: the feast of Masks. "Her novels Swordpoint and (with Delia Sherman) The Fall of Kings share a setting and quite a few characters with The Privilege of The Swords." " She is a member of Terri Windling's Endicott Studio for Mythic Arts and co-founder of the Interstitial Arts Foundation. She lives in New York City and travels a lot, giving shows and readings, lecturing and teaching. You can keep up with her whereabouts and learn more about Riverside and its denizens at www.EllenKushner.com

Her novel Thomas the Rhymer won the World Fantasy Award. "From the Trade Paperback edition."
Praise For The Privilege of the Sword…
"It's beautifully written, breezy, quick, hysterically funny, poignant and bloody and world-weary and heartrendingly naive by turns. This is a fantastic book, a coming-of-age story, and I love it with a quite deep and unreasonable love".—Elizabeth Bear, author of Worldwired

"Winning high fantasy ... a welcome return to the romantic Riverside world Kushner introduced in Swordspoint."—Publishers Weekly

"One of the most gorgeous books I've ever read: it's witty and wonderful, with characters that will provoke, charm and delight."—Holly Black, author of Tithe and Valiant

"A magical mixture of Dumas and Georgette Heyer. The dialogue dazzles and so does the swordplay."—Kelly Link, author of Magic For Beginners

"A swashbuckler for women—splendid!"—Tamora Pierce

"Unholy fun, and wholly fun...an elegant riposte, dazzlingly executed." – Gregory Maguire, NYT bestselling author of Wicked
Advertisement