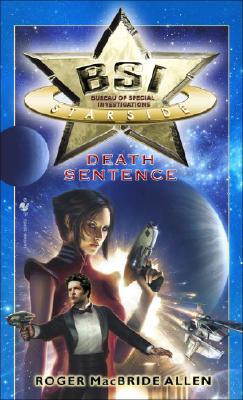 Death Sentence (Mass Market Paperbound)
Spectra Books, 9780553587272, 482pp.
Publication Date: May 29, 2007
* Individual store prices may vary.
or
Not Currently Available for Direct Purchase
Description
They are the elite agents of interstellar investigation and their duty is to preserve and protect humanity throughout the galaxy. They are the men and women of the Bureau of Special Investigations (BSI) and their case files are literally out of this world.

It was just a simple courier job, but it ended in disaster. More than six months after BSI agent Jamie Mendez's predecessor was sent out on a mission, his ship has been found, the twenty-five-year-old agent inside dead—of old age. The urgent message he sacrificed his life to deliver has survived in the form of a highly encrypted datafile. The encryption has kept the sensitive information safe from alien code-breakers—so far. But with the decryption key lost, the file is just as useless to BSI. Now agents Mendez and Hannah Wolfson must travel off-world in the ill-fated ship on a desperate mission to discover what happened to one of their own . . . and to search for the key to a secret that could set off an interstellar, interspecies war—one that may end with humanity's extinction.
About the Author
Roger MacBride Allen is the author of several SF novels, including a number in the Star Wars universe, as well as his own Chronicles of Solace space opera trilogy. He currently resides in Maryland with his wife and two sons.
Advertisement