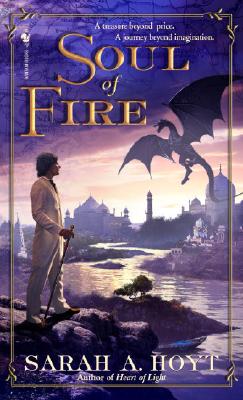 Soul of Fire
Mass Market Paperback

* Individual store prices may vary.
Description
Filled with adventure and danger, intrigue and romance, this thrilling new fantasy from Sarah Hoyt follows the quest for a rare treasure—by a man of rare breed—in a magical Victorian British Empire that never was….

British gentleman and were-dragon Peter Farewell has embarked on a daunting task: to recover the Soul of Fire, a magical ruby said to lie at the heart of British-controlled India. But finding one stone in the heart of a land simmering on the cusp of rebellion, and rife with hostile magics, seems an impossible task—until Peter saves the life of a young virgin fleeing a distasteful arranged marriage. For unknown to Sofie Warington, the flawed gem that is all that is left of her dowry is the very one Peter has been seeking. And if Peter can keep her safe from the sinister factions desperate to gain control of both Sofie and her dowry, he will find more than a jewel; he will find his heart's destiny.
Spectra, 9780553589672, 464pp.
Publication Date: July 29, 2008
About the Author
Sarah Hoyt was born in Portugal during the Cuban Missile Crisis. To make life more interesting, she was born severely premature, at the height of winter in an unheated stone house. She survived, and is glad to report that she's still surviving. She now lives in Colorado with one husband, two children and four cats. She likes dogs but can't afford to adopt eight of them.

She writes science fiction and fantasy for a living. She has published books from her Shifter series ("Draw One in the Dark"), her Musketeers Mysteries series as Sarah D'Almeida ("Death of a Musketeer," "The Musketeer's Seamstress") and her Shakespearean Fantasy series ("Ill Met by Moonlight"). She is currently working on her Magical British Empire series, which includes Heart of Light, Soul of Fire and Heart and Soul, to be published by Bantam Spectra.
or
Not Currently Available for Direct Purchase