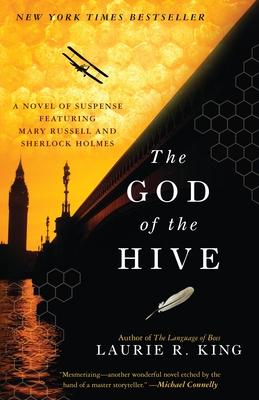 The God of the Hive
A novel of suspense featuring Mary Russell and Sherlock Holmes
Paperback

* Individual store prices may vary.
Other Editions of This Title:
Digital Audiobook (3/28/2018)
Digital Audiobook (4/26/2010)
Description
Mary Russell and her husband, Sherlock Holmes, have stirred the wrath of a murderous secret organization bent on infiltrating the government. Now they are separated and on the run, wanted by the police, and pursued across the Continent by a ruthless enemy with limitless resources and powerful connections.

Unstoppable together, Russell and Holmes will have to survive this time apart, maintaining contact only by means of coded messages and cryptic notes. But has the couple made a fatal mistake by separating, making themselves easier targets for the shadowy government agents sent to silence them?

A hermit with a mysterious past and a beautiful young female doctor with a secret, a cruelly scarred flyer and an obsessed man of the cloth: Everyone Russell and Holmes meet could either speed their safe reunion or betray them to their enemies—in the most complex, shocking, and deeply personal case of their career.
Praise For The God of the Hive: A novel of suspense featuring Mary Russell and Sherlock Holmes…
"The great marvel of King's series is that she's managed to preserve the integrity of Holmes's character and yet somehow conjure up a woman astute, edgy, and compelling enough to be the partner of his mind as well as his heart."—Washington Post Book World
 
"King enriches the Sherlockian legacy."—Boston Globe

"The God of the Hive is mesmerizing—another wonderful novel etched by the hand of a master storyteller. No reader who opens this one will be disappointed."—Michael Connelly, author of The Scarecrow

"A dazzling continuation of the adventures of the world's most famous beekeeper, and his equally daunting 'apprentice,' The God of the Hive will astonish and delight even the most seasoned of Holmes' devotees."—Katherine Neville, The Fire

"The Mary Russell series is the most sustained feat of imagination in mystery fiction today, and this is the best installment yet."—Lee Child, author of Gone Tomorrow

"Without a doubt, King is the master of Sherlockian authors."—Gayle Lynds, author of The Book of Spies

"All it takes is the very first page of the newest installment in Laurie R. King's brilliant series for and you're gone . . . disappearing into an artfully crafted, creative and craft world . . . This is historical suspense at its best, rich with atmosphere, mystery, psychological insight and complex, fascinating characters. But it's not just the plot of Russell's world, or how she matches wits with Holmes that makes King's books such standouts, it's how she brings heart and soul to great detective novels."—M.J Rose, author of The Hypnotist

Laurie R. King's bestselling novels of suspense featuring Mary Russell and Sherlock Holmes are . . .
 
"Audacious."—Los Angeles Times • "Funny and fearless."—Houston Chronicle • "Delightful and creative."—The Wall Street Journal • "Clever, literate, and thoroughly knowledgeable."—San Jose Mercury News • "A lively adventure in the very best of intellectual company."—The New York Times Book Review • "Rousing . . . riveting . . . suspenseful."—Chicago Sun-Times • "Lush, colorful and utterly compelling."—Detroit Free-Press • "Beguiling . . . tantalizing."—The Boston Globe
Bantam, 9780553590418, 384pp.
Publication Date: August 9, 2011
About the Author
Laurie R. King is the New York Times bestselling author of thirteen Mary Russell mysteries, five contemporary novels featuring Kate Martinelli, the Stuyvesant & Grey novels Touchstone and The Bones of Paris, and the acclaimed A Darker Place, Folly, and Keeping Watch. She lives in Northern California.