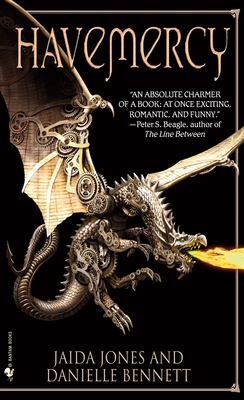 Havemercy (Mass Market Paperbound)
Spectra Books, 9780553591378, 448pp.
Publication Date: July 28, 2009
* Individual store prices may vary.
or
Not Currently Available for Direct Purchase
Description
This stunning epic fantasy debut introduces two exciting new authors--and a world brimming with natural and man-made wonders, extraordinary events, and a crisis that will test the mettle of men, the boundaries of magic, and the heart and soul of a kingdom. Thanks to its elite Dragon Corps, the capital city of Volstov has all but won the hundred years' war with its neighboring enemy, the Ke-Han. The renegade airmen who fly the corps's mechanical, magic-fueled dragons are Volstov's greatest weapon. But now one of its members is at the center of a scandal that may turn the tide of victory. To counter the threat, four ill-assorted heroes must converge to save their kingdom: an exiled magician, a naive country boy, a young student--and the unpredictable ace who flies the city's fiercest dragon, Havemercy. But on the eve of battle, these courageous men will face something that could make the most formidable of warriors hesitate, the most powerful of magicians weak, and the most unlikely of men allies in their quest to rise against it.
About the Author
Jaida Jones recently graduated from Barnard College, where she studied monsters in modern Japanese literature and film. She has had poems published in Mythic Delirium and Jabberwocky, and a collection of poetry published by New Babel Books Danielle Bennett is an ex-Starbucks barista from Victoria, British Columbia, where she studied English literature at Camoson College. From the Hardcover edition.
Praise For Havemercy…
"Havemercy is an absolute charmer of a book: at once exciting, romantic, and funny."—Peter S. Beagle, author of The Last Unicorn

"These ladies write like a house on fire, delivering fantasy's most pleasant surprise since Temeraire himself took wing in 2006...An impressive debut."—SFReviews.net

"Delicious!  The characters are unique, entrancing and believable: dinner-party guests you never want to see go home.   I will gladly walk again in this city, now that I know my way around." —Ellen Kushner, author of The Privilege of the Sword

"A dazzling cast memorable characters! Havemercy is a wonderful debut from two talented new authors."—Lynn Flewelling, author of Shadows Return

"[The authors] vividly convey the testosterone-saturated world of fantasy fighter pilots in this fast-paced debut."—Publishers Weekly

Advertisement