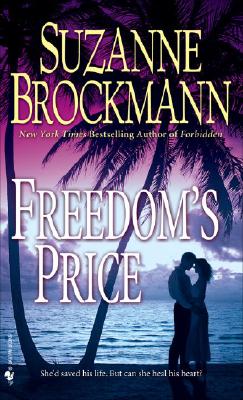 Freedom's Price (Mass Market Paperbound)
Bantam, 9780553591439, 229pp.
Publication Date: February 26, 2008
* Individual store prices may vary.
Description
Could a revolutionary used to running wild win the heart of a world-weary journalist? Liam Bartlett had nearly lost his life in San Salustiano, and for five years the correspondent had done his best to silence his ghosts. But when Marisala Bolivar arrived in Boston, all his memories returned--along with a white-hot hunger for the young rebel who'd hidden him and kept him alive Marisala ached for Liam's touch, so long forbidden but now hers to fight for with a woman's fierce need. Could a love once forged in fire at last burn true? In this unforgettably sensual love story, Suzanne Brockmann creates a portrait of two daredevil survivors, tested by sorrow and bound by destiny to heal each other's wounds. A flame who beckoned him out of the darkness, she understood his pain as no one ever would, but could he soothe her hidden scars by offering her his soul?
About the Author
After childhood plans to become the captain of a starship didn't pan out, Suzanne Brockmann took her fascination with military history, her respect for the men and women who serve, her reverence for diversity, and her love of storytelling and explored brave new worlds as a New York Times bestselling romance author. Over the past twenty years, she has written more than fifty novels, including her award-winning Troubleshooters series about Navy SEAL heroes and the women--and sometimes men--who win their hearts. In addition to writing books, Suzanne Brockmann has co-produced a feature-length movie, the award-winning romantic comedy The Perfect Wedding, which she co-wrote with her husband, Ed Gaffney, and their son, Jason. She has also co-written a YA novel, set in the world of her paranormal Fighting Destiny series, with her daughter, Melanie. Find Suzanne Brockmann on Facebook, follow her on Twitter, and visit her website to find out more about upcoming releases and appearances.
or
Not Currently Available for Direct Purchase