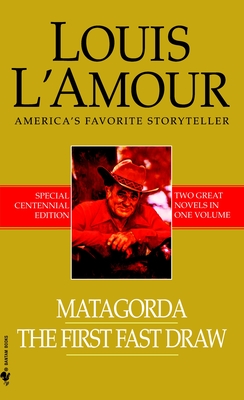 Matagorda & the First Fast Draw (Mass Market Paperbound)
Bantam Books, 9780553591804, 174pp.
Publication Date: February 26, 2008
Description
Matagorda Tap Duvarney lost his innocence in the War Between the States, then tested his skills in the frontier army. Now he's settled on the Texas coast, working a ranch as the partner of his old friend Tom Kittery--and finding himself in the middle of a feud between Kittery and a neighboring family. But the danger from outside is nothing compared to the threat within, as Duvarney suspects Kittery's woman isn't all she appears to be. Tap may have to go to war again. But this time will it be with his closest friend? The First Fast Draw East Texas wasn't much of a home for Cullen Baker. Few liked him, and some even tried to kill him. Yet after three years of wandering, he's back to farm the land that is rightfully his. But Cullen's neighbors have long memories, and his worst adversary has teamed up with a vicious outlaw. With enemies closing in on all sides and threatening the woman he loves, Cullen will have to be faster than lightning--and twice as deadly--just to survive.
About the Author
Louis L'Amour is undoubtedly the bestselling frontier novelist of all time. He is the only American-born author in history to receive both the Presidential Medal of Freedom, and the Congressional Gold Medal in honor of his life's work. He has published ninety novels; twenty-seven short-story collections; two works of nonfiction; a memoir, Education of a Wandering Man; and a volume of poetry, Smoke from This Altar. There are more than 300 million copies of his books in print worldwide.
Advertisement