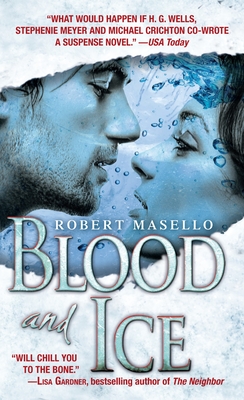 Blood and Ice (Mass Market Paperbound)
Bantam, 9780553591965, 692pp.
Publication Date: July 27, 2010
Description
Journalist Michael Wilde--his world recently shattered by tragedy--has come to the South Pole looking for solace and a new lease on life. But what he finds on a routine dive in the polar sea is something else entirely: the bodies of a young man and a young woman, bound with chains and sealed forever in a block of ice. Beside them is an ancient chest filled with a sinister cargo. Wilde's search to unravel the mystery of this doomed couple will lead from the battlefields of the Crimean War to the unexplored depths of the Antarctic Ocean, where an age-old curse survives to this day. And as the ice around the lovers begins to melt, Wilde will witness what may be a miracle--or a nightmare--in the making. What is dead, it turns out, is not always gone.
About the Author
Robert Masello is an award-winning journalist, a television writer, and the author of many other books, most recently the supernatural thrillers Vigil (which appeared on the USA Today bestseller list) and Bestiary. His articles and essays have appeared often in such publications as the Los Angeles Times, New York Magazine, People, and Parade, and his nonfiction book, Robert's Rules of Writing, has become a staple in many college classrooms. His produced television credits include such popular shows as Charmed, Sliders, and Early Edition. A longstanding member of the Writers Guild of America, he lives in Santa Monica, California. From the Hardcover edition.
Praise For Blood and Ice…
"Robert Masello is a true master at blending cutting edge science, historical intrigue, and riveting thrills, and Blood and Ice is a riotous mix of history, cryogenics, vampirism, and a chilling adventure set in the Antarctic. Park in front of a warm fire and prepare to read this in one sitting!" – James Rollins, author of The Last Oracle

"This fascinating adventure on The Ice really captures the feeling you sometimes get down there, that anything can happen. The science, romance and danger of Antarctica are all well conveyed, and merge into the thrill that is the true Antarctic experience."—Kim Stanley Robinson, author of Antarctica

"A stunning thriller!  With a its fascinating characters, harsh, Polar terrain, and riveting action sequences, Blood and Ice will chill you to the bone."—Lisa Gardner, author of Say Goodbye

"There is nothing better than reading a novel that exceeds all the hype.  Blood and Ice is a spectacular thriller, an epic adventure that crosses genres, the world, history and time . . . I've never finished a book faster." – Richard Doetsch, author of Thieves of Heaven

"[An] exceptional supernatural thriller…. The thrills and, most decidedly, the chills mount."—Publishers Weekly, starred review
Advertisement