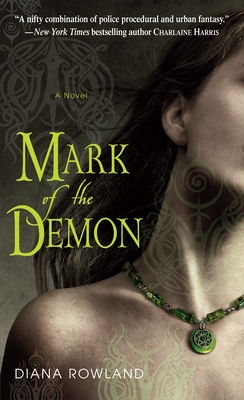 Mark of the Demon (Kara Gillian #1)
Mass Market

* Individual store prices may vary.
Other Editions of This Title:
MP3 CD (7/5/2016)
Description
Cop and conjurer of demons, she's a woman in danger of losing control—to a power that could kill. . . .

Why me? Why now? That's what Beaulac, Louisiana, detective Kara Gillian was asking herself when an angelic creature named Rhyzkahl unexpectedly appeared during a routine summoning. Kara was hoping to use her occult skills to catch a serial killer, but never had she conjured anything like this unearthly beautiful and unspeakably powerful being whose very touch set off exquisite new dimensions of pleasure. But can she enlist his aid in helping her stop a killer who's already claimed the lives—and souls—of thirteen people? And should she? The Symbol Man is a nightmare that the city thought had ended three years ago. Now he's back for an encore and leaving every indication on the flesh of his victims that he, too, is well versed in demonic lore.

Kara may be the only cop on Beaulac's small force able to stop the killer, but it is her first homicide case. Yet with Rhyzkahl haunting her dreams, and a handsome yet disapproving FBI agent dogging her waking footsteps, she may be in way over her head. . . .
Praise For Mark of the Demon (Kara Gillian #1)…
"Mark of the Demon is a nifty combination of police procedural and urban fantasy. Not too many detectives summon demons in their basement for the fun of it, but Kara Gillian is not your average law enforcement officer. In the course of Rowland's first book, Kara learns a lot about demons, her past, and above all, herself."—Charlaine Harris, New York Times bestselling author of From Dead to Worse

"Rowland spins a tale that is riveting, suspenseful, and deliciously sexy. With a unique take on demons, and with one of the most terrifying serial killers ever, Mark of the Demon will keep you up late at night turning pages."—Jenna Black, author of Speak of the Devil

"Mark of the Demon is a fascinating mixture of a hard-boiled police procedural and gritty yet other-worldly urban fantasy. Diana Rowland's professional background as a both street cop and forensic assistant not only shows through but gives the book a realism sadly lacking in all too many urban fantasy "crime" novels."—L. E. Modesitt, Jr., author of the Saga of Recluce
Bantam, 9780553592351, 384pp.
Publication Date: June 23, 2009
About the Author
Diana Rowland has lived her entire life below the Mason-Dixon line, uses "y'all" for second-person-plural, and otherwise has no southern accent (in her opinion.) She attended college at Georgia Tech where she earned a BS in Applied Mathematics, and after graduation forgot everything about higher math as quickly as possible.

She has worked as a bartender, a blackjack dealer, a pit boss, a street cop, a detective, a computer forensics specialist, a crime scene investigator, and a morgue assistant, which means that she's seen more than her share of what humans can do to each other and to themselves. She won the marksmanship award in her Police Academy class, has a black belt in Hapkido, has handled numerous dead bodies in various states of decomposition, and can't rollerblade to save her life.