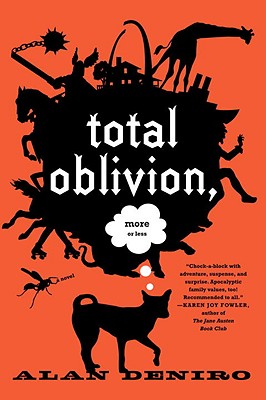 Total Oblivion, More or Less
A Novel
Paperback

* Individual store prices may vary.
Description
"I remember the first time I began to understand that things might not be the same again."

What's a girl to do when her world is invaded by warriors from the ancient world? That's the problem faced by sixteen-year-old Macy, who sees her quiet, normal life in suburban Minnesota turned upside down when things that should never be possible begin to transform the landscape all around her. The cable stops working, the phone lines die–and then the horsemen come to town. It's not the same America that she last went to sleep in.

Ticketed to a refugee camp by the marauding Scythian armies, Macy and her family come to believe that heading down the Mississippi by boat is their one escape from the encroaching madness. But as they make their way downriver, Macy's world just keeps getting stranger, and the wooden submarines, wasp-borne plagues, and talking dogs are the least of her problems: For in this upside-down world, old identities warp and family bonds are sorely tested.

Acclaimed writer Alan DeNiro has fashioned a completely original, utterly beguiling melding of the surreal and the everyday.
Praise For Total Oblivion, More or Less: A Novel…
"Chock-a-block with adventure, suspense, and surprise. Apocalyptic family values, too! Recommended to all."—Karen Joy Fowler, author of The Jane Austen Book Club

"Thoughtful, ambitious writing and truly transformative reading." —Small Spiral Notebook

"Wow! This is a wonderfully weird, fun, touching, heartfelt and memorable novel. Imagine if Huck Finn had been living in post-apocalypse America, and Terry Pratchett had been promoted to God, with George Saunders as his avenging angel. The world of this book is a little like that. In this case, the role of Huck is played by a sixteen-year-old-girl named Macy, whose smart, mordant, utterly convincing voice grounds our journey through this crazy landscape. Macy reminds us that no matter how surreal things get, there is still resilience and hope in the human spirit. Alan DeNiro has created a hilarious and terrifying dream world, but his real genius is that he's peopled it with characters we come to love."—Dan Chaon, author of Await Your Reply, You Remind Me of Me, and National Book Award finalist Among the Missing

"In Total Oblivion, More or Less, Alan DeNiro lifts the modern family drama and sets it down in the middle of a wildly inventive post apocalyptic landscape. The insulated life of Middle America may be a thing of the past, but DeNiro finds a way to lead readers into a future full of humor, imagination, and hope."—Hannah Tinti, author of The Good Thief

"There aren't many writers who take weirdness as seriously as DeNiro does, and fewer still who can extract so much grounded emotion, gut-dropping humor, and rousing adventure from it. A dizzying display of often brilliant, always strange, and definitely unique storytelling."—Booklist, starred review

Spectra, 9780553592542, 320pp.
Publication Date: November 24, 2009
About the Author
Alan DeNiro was born in Erie, Pennsylvania. He graduated from the College of Wooster and received an MFA in poetry writing from the University of Virginia. His collection of short stories, Skinny Dipping in the Lake of the Dead, was published by Small Beer Press. It was longlisted for the Frank O'Connor International Short Story Award and a finalist for the Crawford Award. His short fiction has appeared in One Story, Crowd, Interfictions 2, Strange Horizons, and elsewhere. He lives outside St. Paul, Minnesota with his wife Kristin, a dog, and three cats.
or
Not Currently Available for Direct Purchase