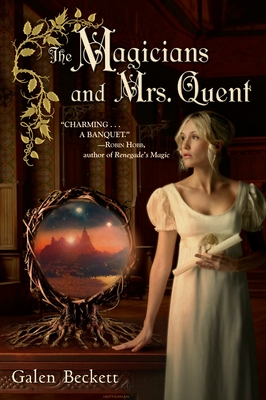 The Magicians and Mrs. Quent (Paperback)
Spectra Books, 9780553592559, 498pp.
Publication Date: November 24, 2009
Description
Galen Beckett weaves a dazzling spell of adventure and suspense in an evocative world of high magick and genteel society-a world where one young woman discovers that her modest life is far more extraordinary than she ever imagined. Of the three Lockwell sisters-romantic Lily, prophetic Rose, and studious, book-loving Ivy-it's Ivy, the eldest, who's held the family together after their father's silent retreat to the library upstairs. Everyone blames Mr. Lockwell's malady on his magickal studies, but Ivy still believes-both in magick and in its power to bring her father back. Yet it is not until Ivy takes a job with the reclusive Mr. Quent that she discovers the fate she shares with a secret society of highwaymen, revolutionaries, illusionists, and spies who populate the island nation of Altania. It's a fate that will determine whether Altania faces a new dawn-or an everlasting night.
About the Author
What if there was a fantastical cause underlying the social constraints and limited choices confronting a heroine in a novel by Jane Austen or Charlotte Bronte? Galen Beckett began writing The Magicians and Mrs. Quent to answer that question. He lives in Colorado and is currently at work on the next chapter in this fabulous tale of witches, magicians, and revolution, The House on Durrow Street. From the Hardcover edition.
Praise For The Magicians and Mrs. Quent…
"A charming and mannered fantasy confection with a darker core of gothic romance wrapped around a mystery. Fans of any of these will enjoy it. Readers who enjoy all these genres will find it a banquet." —Robin Hobb, author of Renegade's Magic

"I loved reading this piquant page-turner of a retro-modernist fantasy novel. But it's more than just a rattling good time. Like its characters, it is not merely devastatingly clever, but has a heart and a soul." —Ellen Kushner, author of The Privilege of the Sword

"The Magicians and Mrs. Quent is a charming and accomplished debut, sure to delight fantasy afficianados and lovers of gothic romance alike." —Jacqueline Carey, author of Kushiel's Mercy

"The Magicians and Mrs Quent combines the sense and sensibility of Miss Austen with the sweep and romantic passion of the Miss Brontes in a fantastical feast of delights. From the moment I encountered the resourceful and charming Miss Ivoleyn Lockwell, I was eager to follow her from the fashionable streets of the city to her new employment as governess at lonely Heathcrest Hall on the windswept and rugged moorlands. In Altania, Galen Beckett has created a fascinating and engaging world where the formalities and courtesies of polite society conceal the emergence of a dark and ancient force that threatens to destabilize the kingdom and destroy everything that Ivy holds dear."—Sarah Ash, author of Tracing the Shadow

"An enchanting blend of Victorian melodrama, Edwardian comedy of manners, and magic, a trip into an alternate universe in which top-hatted gentlemen dabble in magic and young women of great spirit are as beleaguered by their lack of dowry as they are by the evil villains.  The characters are convincing, the plot vertiginous, and the danger bone-chilling."—Delia Sherman, author of The Porcelain Dove

"[Beckett] cleverly mixes fantasy and literary....with elements of the fantastic, an imaginative eye, and a dry sense of humor."—NPR.org
Advertisement